Review Detail
3.3
1
0.5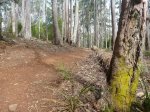 Scenic/cultural/historical value
3.0
Needs a clean up but lots of fun and lits to explore.
Review
Updates
Fun twisty single track route that makes the most of the area it's on. After a steep up hill climb you come to the top of the trails. The pond track had some nice flowing sections as well as some fairly steep climbs. The face track offers 3km of more flowing sections, some bumpy descents and more climbing to keep you fit.
There are also lots of other shorter routes and variations of ways about this area, so a few slower, exploratory rides would pay dividends.
Only downside to this trail is the amount of debris on the tracks and trails due to its exposure to every storm that graces the North coast. That said, an afternoon with a rack and your iPod at the end of the windy season would see this trail back to perfection again. As with the other local trails, this was made and is maintained by volunteers from the Cradle Coast MTB club so a huge thank you goes out to them all.
Would you recommend?

Comments