Review Detail
4.3
3
0.5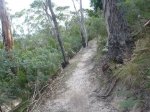 Scenic/cultural/historical value
3.5
Review
Would you recommend?

Comments
1 results - showing 1 - 1
I recently gave this place a brief explore. For many years I had intended to go up there as my grandfather had told me he was posted there during the war years for a short time. As best as I can recall he said it was a bomb dump. I can't find much information relating to that and unfortunately he's no longer with us for me to ask. So if anyone has ever wondered what all the ruins are, that's more than likely what most of them are from. I would love to hear from anyone that has any further information.
1 results - showing 1 - 1