Review Detail
4.3
4
0.5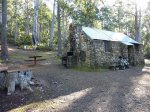 Scenic/cultural/historical value
5.0
Review
Updates
I had a mate over from Melbourne for the weekend, and it was the perfect excuse to finally check out the North South Track. Without a doubt one of the most fun trails we've ever ridden!

As the other reviewer said, it just flows and flows. The scenery is amazing, especially coming from The Springs, everything is lush and green. This is the great thing about mountain biking, getting out in nature and losing yourself for a few hours.

There is nothing really that technical on the track, though the second last decent towards Glenorchy got a bit sketchy at times at speed, it was also one of the most fun bits.

What else to say? Ride in as soon as you can!
Would you recommend?

Comments