Review Detail
4.3
3
0.5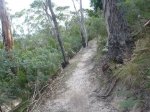 Scenic/cultural/historical value
4.5
Review
Updates
John I think that the Meehan range is an area that may need a guide as this review doesn't reflect what is there at all... Happy to show you around...

And yes I know we need signage and that is on the way.
Would you recommend?

Comments
1 results - showing 1 - 1
Jason, I've updated the trail notes since your comment. Also the map and gpx / google earth download has all the trails I am aware of as at June 2014.
1 results - showing 1 - 1