Review Detail
4.1
5
0.5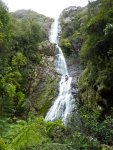 Scenic/cultural/historical value
4.5
Recommend only with lots of qualifiers. Maybe the rain on the day and previous day turned this into a moving quagmire. Maybe it's always like this?
Review
Updates
We commenced this loop from Zehan & were really surprised by the total lack of trail markers or accurate description/distances to significant points. These include river crossings (knee deep) T intersections (left or right?) etc, etc. trail itself was heavily overgrown & not particularly inviting. Once across the sealed road the challenge of hundreds of bottomless puddles, more unsigned turn offs & very heavily rutted tracks tested our resolve. The final section to the falls & across the swing bridge were simple by comparison. Worth doing? For sure! Do it again? Not in a hurry!
Would you recommend?

Comments