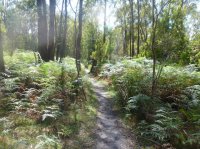 Key Statistics
Time (hrs)
30mins - 2hours
There is a dense network of trails criss-crossing the Kate Reed Reserve and it really is best enjoyed by pointing your wheel down the main trailhead and just exploring.  For those looking to push themselves there are some dedicated tracks available and families with kids could equally enjoy riding down to the duck boarded area and just exploring.   Basically get in there and enjoy yourself.  This park has something for all levels.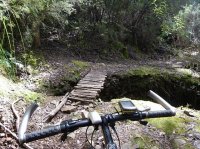 Connecting together some of the most accessible off-road riding trails around Kingston, this loop is a great way to discover some trails close to Hobart and plant the seed for further exploration.
There are plenty of great views, beautiful, quiet trails, with a bit of technical fun, and even a bit of history all thrown in. Cap this off with a great downhill run at the end to take you home. This is one of my favourite rides close to Hobart.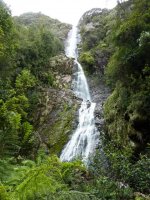 Key Statistics
Distance
55km (shorter options possible)
If you're heading over to the West Coast, then this would have to be the number one ride on your agenda.  The route follows an old railway line through some beautiful forests to the 114m Montezuma Falls.  The route can be broken into a number of sections from a short (11km) out and back ride along a gentle, easy to ride trail from the Northern end of the track though to a 55km out and back epic starting and ending in Zeehan.

The core of the ride is the 14km section (each way) from Melba Flats to Montezuma Falls where you'll get to play in the mud, race 4WD's, plunge through deep washouts and really get some serious mountain biking in.  Finally, for the well prepared and adventurous the final 8kms from Melba Flats to Zeehan crosses through button grass plains providing expansive views which you'll have plenty of time to enjoy as you push, bash and swim your bike along what was once a railway line.
Key Statistics
Distance
Day 1 - 40km, Day 2 - 15km
Maria Island makes for a great overnight cycling trip, allowing you a chance to not only explore the more commonly visited sites on the Northern Island, but also a chance to head down to the much less visited Southern Island.

The route described below sets aside the first day for a leisurely exploration of the Southern end of the Island on the first day, overnight camping at Encampment Cove, and then a walk up Mt Maria and exploration of the more visited Northern end of the Island on the second day.  However, once on the Island, you can mix and match the rides to your own liking and unless you're really keen to get away from it all, it might make more sense to base yourself at Darlington and just do day trips (see route options).

Maria Island has an amazing abundance of wildlife, so it can be worth taking a good torch for a bit of a night time look around.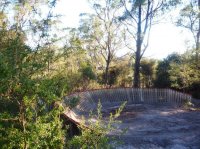 This MTB park was built by the Cradle Coast Mountain Bike Club who have the lease over the site.    There's only a few kilometres of singletrail in the park, but it's the man made features that will draw you here and make you want to stay.  There is also a new skills park above the race track and some impressive jumps are being installed inside the old speedway.  While there is something for the beginner through to advanced rider, you'll really get the most out of this this park if you fall more in the intermediate to advanced end of the range.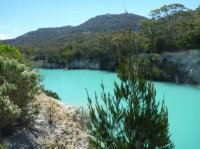 I'm breaking the rules on this one and listing a track provided by Forestry Tasmania that I haven't ridden.  What I can tell you is this circuit is legal, that it appears to be mainly on gravel roads and fire trails and that it circumnavigates Mount Cameron in the North East of the State.  The recommended starting point on the map provided by Forestry Tasmania is the Scottsdale High School
Mount Cameron Field Study Centre
 (or more specifically the Field Centre Gate) but I could also recommend starting at
Little Blue Lake
 just north of Pioneer on Gladstone Road (B52) for those who don't want to do the extra driving to the Field Centre.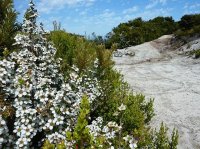 Key Statistics
Distance
35km return (can be done one way with car shuffle)
This route follows a coastal trail (Climies Track) from Granville Harbour to Trial Harbour, but don't let that lull you into thinking this is an easy ride.  Out and back you'll be climbing nearly 1000metres with pinches as steep as 15%.  That said, this trail is a mountain biking mix-up nirvana for the fit and adventurous as you tackle sandy trails, flowing granite, rocky patches, mud and creeks, and of course the hills ... so many hills.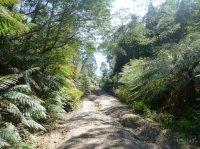 Thanks to the efforts of the Cradle Coast Mountain Bike Club, many of the old forestry trails in the Dial Range have now been stitched together with some singletrack sections to provide a wonderful, but still infrequently ridden, world of climbing and descending.   The route described here follows the sections of
the Cranky Penguin race
that are open outside of the race event (also see the
Penguin MTB Park
) and while I'd
recommend the race
as a great time to ride these trails (and enjoy sections not open during the rest of the year), it can be really enjoyable to explore these trails and forests at a more leisurely pace as well.
This ride ties together a couple of out and back rides to Grey Mountain and Pelverata Falls into a loop of sorts.   It is probably more for adventurous local riders who don't mind some rough tracks and who are looking for a short bit of technical riding with some nice views at the end. 
However it can also make a great day out for less experienced riders just so long as you are willing to walk your bike a bit.  There are plenty of options to extend or shorten this ride for those looking for more or less hours in the saddle.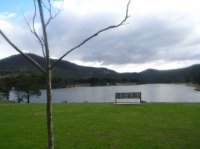 The Risdon Brook Dam Reserve is a pleasant little reserve on the outskirts of Hobart and cyclists are allowed to ride the easy 4.4km track which circles the dam.  This ride will suit those looking for a nice family ride for the kids or a short easy relaxing ride for themselves.
Those searching for mountain bike trails will be better served heading for nearby trails up the nearby East Risdon Hills or Meehan Ranges.