Filters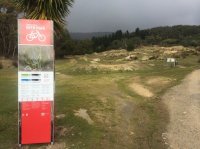 The Glenorchy Mountain Bike Park is only 15 minutes from the centre of Hobart and contains cross country, downhill and jumps courses.   The Park has the added advantage of being connected to the wider network of trails across Mt Wellington, and in particular is where you end up at the end of the North South track.  The route described here is a 5km cross country course, but this is only one of a growing network of trails that can be ridden in the park.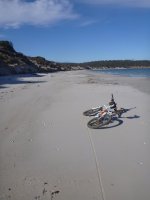 The Lime Bay Nature Reserve doesn't get a lot of visitors, but contains a surprisingly large network of  trails linking together some beautiful beaches and lagoons with some great convict history thrown in to boot.  These trails provides excellent riding options for both the family through to the hardcore cyclist looking for a hard workout along some tough sandy trails.  The route described here tries to get you around to most of the best spots in the park, but the reserve is compact enough that you can just go out  there, point your wheel down a trail and go and explore.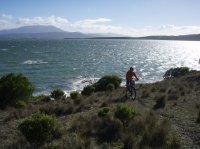 Key Statistics
Distance
47km: 35km (Southern Loop) + 17km (Northern Loop)
The Tangara Trail is an almost invisible web of interconnecting trails between Seven Mile Beach and South Arm.  It often weaves between property boundaries and heads along quiet roads, beaches and bush trails.  There is good tangara trail signage all over the area, so with a bit of help from the website and a sense of adventure you really could just go trail chasing.

The route described here knits together some of the best sections of the trail, but throws in a few extra bits as well to make a nice figure of eight ride that will give even the most experienced cyclist a good day out.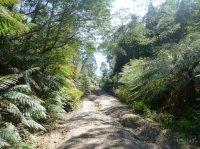 Thanks to the efforts of the Cradle Coast Mountain Bike Club, many of the old forestry trails in the Dial Range have now been stitched together with some singletrack sections to provide a wonderful, but still infrequently ridden, world of climbing and descending.   The route described here follows the sections of
the Cranky Penguin race
that are open outside of the race event (also see the
Penguin MTB Park
) and while I'd
recommend the race
as a great time to ride these trails (and enjoy sections not open during the rest of the year), it can be really enjoyable to explore these trails and forests at a more leisurely pace as well.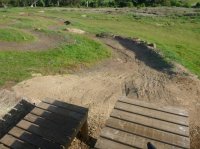 Key Statistics
Distance
Approx. 2kms of trails
Time (hrs)
Variable (15 mins - 2 hours)
This park (opened November 2012) aims to fill a skills development niche in the mountain bike scene around Hobart and will be best enjoyed by newer riders and intermediate riders looking to develop their skills.  It would also be a great place for the kids who will love the jumps and easy riding.

As well as a Dirt Jump Park, the area contains a 200 metre 'kids corner' loop, the 1.3km "Holy Roller" for beginners and the 350 metre "Black Betty" which has a range of technical features, drops and bermed corners.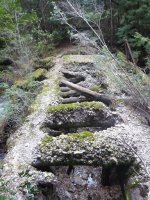 Heading up the Upper Forth valley, this track takes you on a journey into the World Heritage Area along what was, up until the mid 1980's, a road to the Oakleigh Creek Wolfram Mines.  The first section is still regularly used by kayakers seeking to paddle the Forth river and as such is fairly reasonably well maintained, but as you make your way further up the valley the track deteriorates and you find yourself in a beautiful and seldom visited area of Tasmania.  This is a true gem of a ride for those who like to explore remote places on two wheels, but is not for the inexperienced, unprepared or those looking for groomed single track.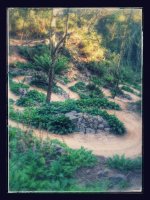 Key Statistics
Distance
Various (this route describes a 20km trail)
The Blue Derby trails currently consist of 40+ kms of custom built single track with the trailhead smack bang in the middle of Derby. The riding is exquisite, and the scenery is better. Made up of a network of fourteen (at last count) named trails, these trails take you through beautiful forests and up and down amazing switchbacks and sweeping berms. The bulk of the trails can actually be done in a single large loop, but one loop might not be enough. With lots more trails on the way, these trails are a must do on the itinerary of anyone coming to Tasmania to ride.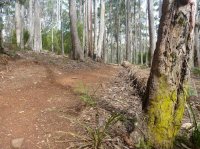 Key Statistics
Distance
Variable (10-25km)
This route ties together some very easy cycling along the Ulverstone to Turners Beach cycleway and nearby backroads with the chance to go play on some pretty darn good singletrack in a mountain bike park on private land off Stubbs Road.  Some may wish to just do one or the other, but combined they make an enjoyable ride … Allowing you to stretch both your legs and your skills.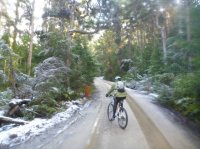 Key Statistics
Distance
30 kms (15kms each way)
Climbing nearly 1000 metres in around 15kms, this route takes you from the visitors centre at the entrance of Mt Field National Park to the car park at Lake Dobson.  Although entirely on a gravel road that is open to traffic, this is a brilliant ride whether you're seeking the fun and beauty of riding in the snow in winter, seeing the fagus change colour in Autumn or heading up to enjoy the upper regions of the park through summer.

A National Parks Pass will be needed to do this ride.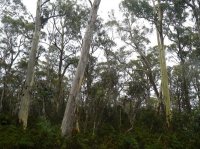 Key Statistics
Distance
50 km return (25km each way)
A hidden gem of a ride connecting Clark Dam at the southern end of Lake King William with Derwent Bridge, this route follows infrequently used 4WD trails alongside the banks of the lake.  Combining remote riding along beautiful trails with spectacular bushland and lakeside views, this is a trail to check out before everyone else finds out about it.  It is not however for those looking for sweet single trail.