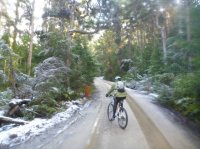 Key Statistics
Distance
30 kms (15kms each way)
Climbing nearly 1000 metres in around 15kms, this route takes you from the visitors centre at the entrance of Mt Field National Park to the car park at Lake Dobson.  Although entirely on a gravel road that is open to traffic, this is a brilliant ride whether you're seeking the fun and beauty of riding in the snow in winter, seeing the fagus change colour in Autumn or heading up to enjoy the upper regions of the park through summer.

A National Parks Pass will be needed to do this ride.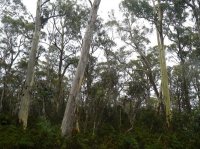 Key Statistics
Distance
50 km return (25km each way)
A hidden gem of a ride connecting Clark Dam at the southern end of Lake King William with Derwent Bridge, this route follows infrequently used 4WD trails alongside the banks of the lake.  Combining remote riding along beautiful trails with spectacular bushland and lakeside views, this is a trail to check out before everyone else finds out about it.  It is not however for those looking for sweet single trail.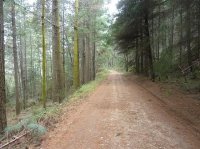 This short ride follows a section of the Tasmanian Trail from Railton to Sheffield and is on an old railway line for most of the way.  As such the trail makes for fairly easy riding as it passes through surprisingly pleasant bushland, plantations and farmland.
Railton and Sheffield make great places to explore, as do Sykes Sanctuary and Stoodley Plantation along the way.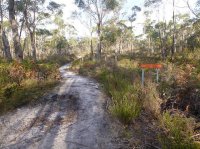 The Peter Murrell Reserve, on the southern edge of Kingston, contains a network of tracks which are available to mountain bikers.  This route basically takes you on a circuit around the park and would be a good ride option for families looking for a day out with the kids with its easy to moderate riding and with dams, bush and wildlife to explore.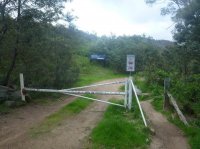 Starting at the end of Belbins Road there is a growing network of tracks and trails all over the Meehan Ranges which make a great playground for beginner through to advanced riders.   Whilst most people now head straight up into the Meehan Ranges, there's still some great riding to be had in Stringy Bark gully itself directly off Belbins Road, especially for those who just want an hour or so on the bike.  Also check out the
Meehan Ranges
and
Clarence Mountain Bike Park
 notes for other rides in the area.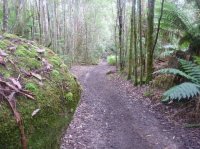 Also called the OC track in some guides, this is one of the 'old school' trails in the Blue Tier area.  The actual track is 7kms of beautiful, but sometimes rough and rutted, trail dropping 450 metres from Jubilee Hill down to the bottom of the Weldborough Pass near Moorina.  It passes through beautiful forest, but you might not notice that so much as you enjoy the sweeping, sometimes plunging, descents as you navigate your way over the many little obstacles on the way.  Even me, who doesn't like doing the same trail twice in the same year, would be happy for someone to give me a lift back up to the top for a second go at this one.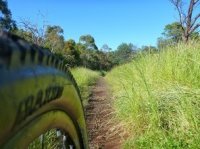 The Youngtown Regional Park is a pleasant little park on the outskirts of Launceston.  Although the ride is only a short 2.6km loop, the track has a good surface and makes for a nice ride if you're in the area.  It is mainly easy riding with a spot or two that will challenge beginner riders, but nothing technical.  The circuit would also make for a pleasant hour or so with young kids able to ride the distance.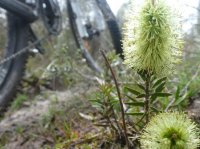 This 20km circuit will interest both those who like to leisurely explore new areas on their bike as well as those who like their biking to have a bit of adventure and challenge.  The circuit follows old 4wd tracks and is pretty flat the whole way around.  Any reasonably fit cyclist could tackle the ride, but there's a few tricky sections (and lots of mud) so be careful on this one.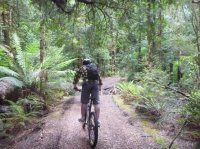 This remote loop on the edge of the Tarkine takes you down nine kilometres of abandoned railway, dropping you out at the old Magnet township and mine.  Here you can explore to your heart's content, seeing first hand both the scars of our earlier presence in the area and how nature reclaims its own.  After exploring the old township, it's a gut busting climb up to the highway and back to the car leaving you with a feeling of having just undertaken your own little Tasmanian adventure.  The track notes also include a detour off to the Philosophers falls walk.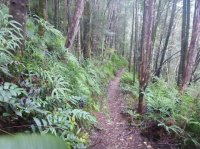 Key Statistics
Distance
21km (long loop) - 9km (short loop)
The heart of the Sterling Valley Track is a short, hard to find section of technical single trail which descends from the flanks of Mt Murchison down into Rosebery, however if you start back near Tullah and tackle the climb up as well, then you'll be treated to a lovely one way ride.  The route comes alive once every two years when the Wildside event is run, but otherwise it's sitting there waiting for those brave enough to try it.  It's a track best enjoyed during the later summer months when it may have dried out a bit.