Filters
5 results - showing 1 - 5
The Atlas trail sits out from the rest of the Blue Derby trails and deserves trail notes all of its own.  Billed as a white-knuckle roller coaster ride, it is one heck of a track and worth the effort of riding it (just don't think that it's all downhill).  You can ride Atlas as part of a loop, organise a commercial shuttle through
Vertigo MTB
(I've done this option and highly recommend it) or organise your own shuttle.  These trail notes are written to help you with all these options.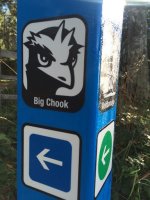 The Big Chook is one of the trails making up the Weldborough section of the Blue Derby Network.  It follows the old Blue Tier Descent route up from Weldborough for the first 3kms and then turns off and what follows is one of the most awesome sections of trail in Tasmania.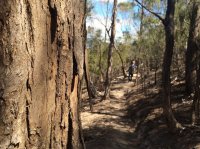 Key Statistics
Time (hrs)
Varies (an hour or two)
Location
Where
Risdon Vale Sports Ground (Car Park)
The Risdon Vale Trail is a short 2km XC loop built as part of a local initiative by the Risdon Vale Bike Collective and Blue Hill Trails. As it was built by young locals (under the guidance of a professional trail builder) it is a pretty solid achievement.

This is probably more a trail for local riders looking for some new trails or, rather than interstate or visiting riders. The Bike Park is pretty impressive and incorporates dirt jumps and a pump track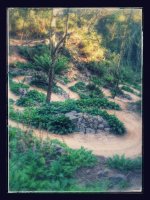 Key Statistics
Distance
Various (this route describes a 20km trail)
The Blue Derby trails currently consist of 40+ kms of custom built single track with the trailhead smack bang in the middle of Derby. The riding is exquisite, and the scenery is better. Made up of a network of fourteen (at last count) named trails, these trails take you through beautiful forests and up and down amazing switchbacks and sweeping berms. The bulk of the trails can actually be done in a single large loop, but one loop might not be enough. With lots more trails on the way, these trails are a must do on the itinerary of anyone coming to Tasmania to ride.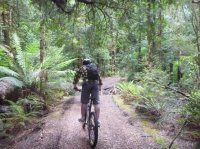 This remote loop on the edge of the Tarkine takes you down nine kilometres of abandoned railway, dropping you out at the old Magnet township and mine.  Here you can explore to your heart's content, seeing first hand both the scars of our earlier presence in the area and how nature reclaims its own.  After exploring the old township, it's a gut busting climb up to the highway and back to the car leaving you with a feeling of having just undertaken your own little Tasmanian adventure.  The track notes also include a detour off to the Philosophers falls walk.
5 results - showing 1 - 5