TRAIL CLOSURE UPDATE -effective 5pm Friday 6th of December, 2013
Following recent bushland burns, the Glenorchy Mountain Bike Park and the North South Track descent route are OPEN.
The only remaining track restrictions (which are in place because of the high risk of tree fall) are:
·
The upper part of the North South Track ascent (also known as the Cross Country Loop) which runs through a burnt area near the '5-Ways Junction' (see attached map); and
·
The Priest Fire Trail and Merton Fire Trail from above Lime Kiln Dam and Tolosa Quarry (these are blocked east of the downhill track).
Track closures in the Glenorchy area are now minimal and clearly marked on the ground. There are numerous alternatives that can be used to safely bypass closed areas.
Please adhere to trail closure signs and do not enter burnt areas.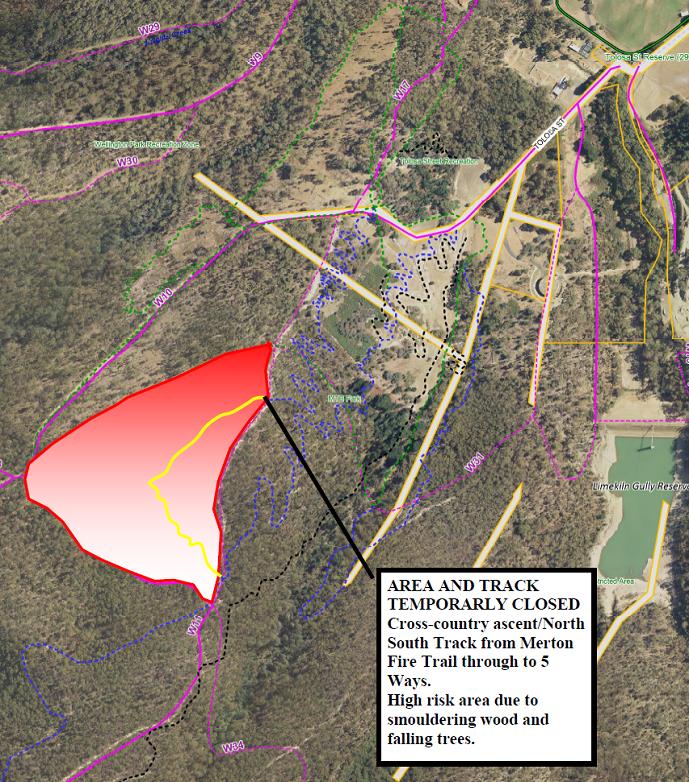 Riders and walkers can now travel safely through to complete the North South track from The Springs to Tolosa Street.

A further update will be provided on the Glenorchy City Council website as soon as the remaining minor track restrictions are removed.

For further information please contact Glenorchy City Council on 6216 6318 (during working hours).
Thanks for your understanding.
Happy trails to you all.
The Environment Team at Glenorchy City Council.