The illegally constructed track near Grays Fire Trail off the Pipeline Track south of Silver Falls is to be closed. This track crosses both private property and Hobart City Council property and riders should cease using it immediately.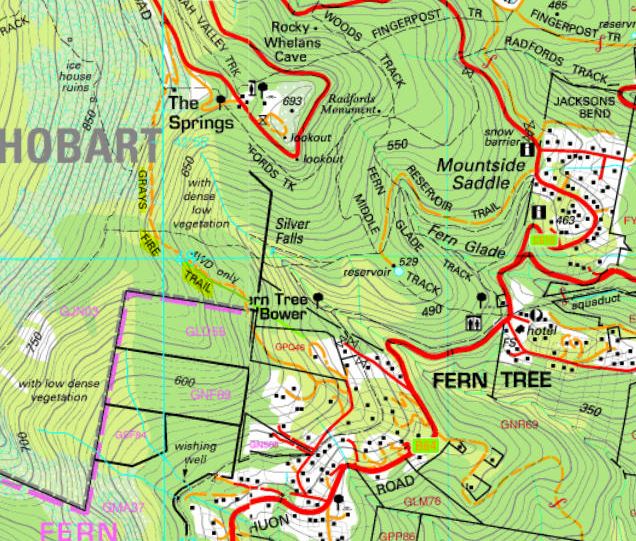 Reasons:
It has been cut/built across privately owned property without the landowner's permission
It has been cut/built within Wellington Park without approval
Unauthorised track construction jeopardises Park values and the amenity and safety of Park users. The Park values are protected by Regulations which provide for hefty penalties.
This environment is home to sensitive communities of flora and fauna, including threatened species and sites of aboriginal and European cultural heritage; this is why proper surveys are done before track work is authorised.
Rehabilitation work will be costly and time consuming: resources which are otherwise used for maintenance and construction of tracks in Hobart's Bushland reserves including Wellington Park.
If you are interested in growing the track network, see below for how you can get informed and involved.
Information about Regional MTB Track Planning
Last year the Wellington Park Management Trust, the Hobart City Council, other adjoining local councils and MTB riders collaborated to prepare the
Greater Hobart Mountain Bike Masterplan
. The plan highlighted a number of opportunities to better provide for MTB riding in the greater Hobart region. Click on
agency updates
to see how all land managers are progressing with projects in their area.
MTB Track Building opportunities
The
Hobart Trail Groomers
are actively looking for riders to help build and maintain tracks in the Meehan Range and Glenorchy Mountain Bike Park. Find them on
facebook
or via
DirtDevils
.
The Wellington Park Management Trust and the Hobart City Council ask all riders to respect track development processes, which are already in train, and which will benefit everyone if allowed to run their course. A large number of riders have cooperated with land managers in the track planning process and we thank them sincerely for this.
For any further information you can contact the Wellington Park Ranger Ben Masterman on 0408 517 534, or the Hobart City Council Bushland Project Officer Richard Greenhill on 6238 2886.
The Ranger