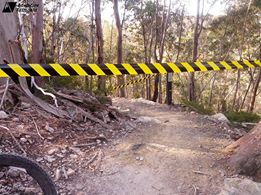 Due to controlled bushland burns being conducted in the Glenorchy Mountain Bike Park and the surrounding hills on Tuesday 3
rd
and Wednesday 4
th
of December some tracks are currently closed in the Glenorchy area.
These are:
- The North South Track, which is closed from the Lenah Valley Fire Trail through to Tolosa Street.
- The Glenorchy Mountain Bike Park is entirely closed
The bushland burns pose a high risk to walkers and riders due to fire and subsequent falling trees.
The tracks will be reopened as soon as possible once we have deemed the areas safe to enter.
If you wish to ride the upper section of the North South Track, your last exit is the Lenah Valley Fire Trail.
We trust that you will respect the brief track closures that are in place for your safety.
We are working swiftly to ensure the single-track joy in the Glenorchy area returns quickly.
A further update will be provided on this website/forum as soon as mountain bike trails are reopened.
For further information please contact Glenorchy City Council on 6216 6318.
Thanks for your understanding.
The Environment team at Glenorchy City Council.