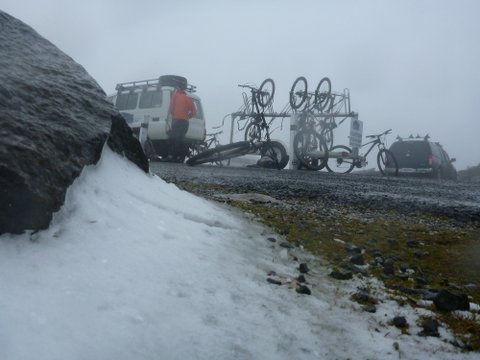 Has anyone else noticed that winter's almost upon us?

But don't use that as an excuse to bunker down and hibernate (he says knowing full well he is about to fly out to Queensland) because there's still plenty of good riding on offer over winter and good reasons to stay fit after that.

Both the Hobart Dirt Devils and the Launceston Mountain Biking Club are offering up great social rides over the next few months, so if you're looking for an opportunity to be shown around some routes at something below a race pace, then I'd recommend getting along to some of these rides.  I've brought together their offerings in the tassie trails events calendar with links off to more information on their websites.

Not to be outdone, The Cradle Coast Mountain Bike Club have been running a great little series called "Scrabble in the Gravel" which mixes good old hard riding with a little bit of scrabble luck to decide the winner ... get on over to their website for more information as there is still one more event to go in the series which will be held on June 1 (venue tbd).

Personally, I'm also hoping for a good offernig of cyclocross events to be showing up soon (please, please, please) in both the north and south of the state, but no hint of any actual offerings yet.

If you've missed the announcements, a few of the big events have put up their dates, including the icebreaker multisport which has moved forward to May 25 (so just a few weeks).  Sally's Ride has locked in on December 7 for their annual event (this is a great road ride and I'd highly recommend it) and it looks like the Cranky Penguin has moved out to February 1, 2015 which is the week before the Blue Dragon MTB event which is going to make for one heck of a double header for those willing to try it.

On the track building front, there's some great stuff happening out on the Tip Top Track in Hobart if you can get along to one of the build days, and there's also regular work happening over in the Meehan ranges and up in launceston.

In short there's still a stack of stuff going on, all of these events and more (major runs, multisports etc.) are all updated monthly on the events calendar ... the only hard decision is which one's to get involved in. 

Enjoy.