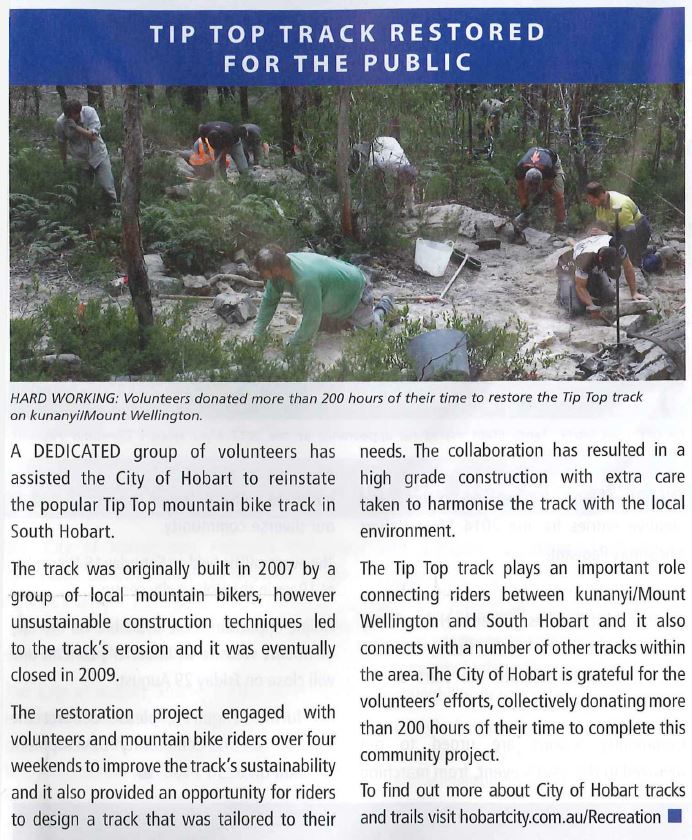 A DEDICATED group of volunteers has assisted the City of Hobart to reinstate the popular Tip Top mountain bike track in South Hobart.
The track was originally built in 2007 by a group of local mountain bikers, however unsustainable construction techniques led to the track's erosion and it was eventually closed in 2009.
The restoration project engaged with volunteers and mountain bike riders over four weekends to improve the track's sustainability and it also provided an opportunity for riders to design a track that was tailored to their needs. The collaboration has resulted in a high grade construction with extra care taken to harmonise the track with the local environment.
The Tip Top track plays an important role connecting riders between kunanyi/Mount Wellington and South Hobart and it also connects with a number of other tracks within the area. The City of Hobart is grateful for the volunteers' efforts, collectively donating more than 200 hours of their time to complete this community project.
To find out more about City of Hobart tracks and trails visit
hobartcity.com.au/Recreation
Source: Hobart City Council Capital City News August 2014