Review Detail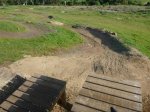 Scenic/cultural/historical value
0.5
I was really looking forward to riding this park when I heard it was being built by Dirt Art. I've seen Dirt Art's work and it's pretty good.

When I did ride it for the first time I was disappointed. When I rode it for the second time, I was still disappointed.

It really looks like another half baked effort by the Kingborough council. The standard of finish and design is not what I expect from Dirt Art - I suspect a lack of funding on that point. The potential is there, the execution was poor.

The park is not finished as well as expected, jumps and features sometimes feel out of place. The flow seems wrong, jumps/lumps just before a corner, loose surface on some corners, over-compressed design.

A more complete use of the land area plus more natural obstacles would improve this park. Putting in proper drainage would help too.
Review
Would you recommend?

Comments