Review Detail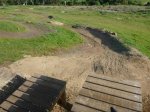 Scenic/cultural/historical value
0.5
I'd recommend to the right person, not for everyone.
Review
Updates
It's OK, but you just need to set your expectations.
Would you recommend?

Comments
1 results - showing 1 - 1
Unfortunately one of the worst built mountain bike trails I have ever seen. If it was built by volunteers, hats off to you guys for having a go, although it pays to do some research on trail building before you tackle a project like that. If a "professional" company built this track, it should go into the eternal wall of shame and they should just change their business to building dams. There was no though whatsoever put into drainage. Every single corner of the track holds water. People have been riding it wet too so the ruts are about 1/2 metre deep. It's also obvious that there has been no maintenance done to any of this facility for a very long time. The whole place just looks abandoned.

The jumps in the dirt jump section are not well designed either. Most of them are doubles, which make it too scary and/or risky for beginners to have a go and progress in their jumping, and they are generally too short and easy to overshoot for the speed you gain on the jump run. The ramp angles are also bad, particularly the landing ramps.

There is certainly lot of potential here, but please get a decent trail builder to fix the place up.
1 results - showing 1 - 1