Review Detail
2.8
2
0.5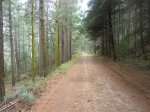 Scenic/cultural/historical value
3.5
Park the car in Railton, and look forward to a gentle climb followed by a gentle descent. Nothing too hard here - the distance (24km return) might challenge beginners, but by starting at the bottom you can turn back at any time and look forward to an effortless return.
Review
Updates
Some Tassie Trail markers are missing (July 2013), so check the maps and guide before you go.
Would you recommend?

Comments