Review Detail
3.8
1
0.5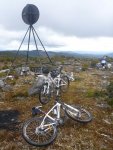 Scenic/cultural/historical value
4.0
Seven of us did this last October, taking a GPS track that I'd ripped out of an embedded map on the Blue Dragon site, and some really old 1:25,000 maps stolen off theList.
That made for some interesting navigational moments, but the only real issue we had was early on, when the leaders shot past the turnoff near the dam.
We had a really nice day, so we got to enjoy superb views from the top of Rattler Hill.
Highlights: The view, the single-track down through the pine forest (super fast), and the descent to the creek (technical and fun).
Lowlights: Weld Hill Road going up and down and up and down, so you're averaging the uphill speed, trees down on the Ringarooma River track making it quite stop-start, one guy snapping the hanger of his derailleur near the end.
Big lowlight: the rainforest descent to Moorina had so many trees down that there was no obvious track in many places, and is was basically a scrub bash carrying bikes (or posting bikes through gaps in the scrub) - recommend doing this just before or a little while after the race, so it's cleaned up!
Took us 9 hours, which included 45 minutes on top of Rattler Hill, a lot of navigation and regrouping stops, the scrub bash down the hill, and a laughable 30 minute interlude where a guy at the front stopped to take pictures of us all going past, miscounted and thought there was one missing, and went back to search for them - leading to us going back to search for him!
A big day, but satisfying.
Review
Updates
At the very end, you've said turn right onto the highway - should be left.

Would you recommend?

Comments
1 results - showing 1 - 1
Oops ... good pick up on the directions - thanks and has been corrected.
1 results - showing 1 - 1