Review Detail
3.5
3
0.5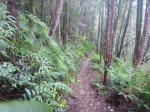 One of the best tracks in Tasmania
Scenic/cultural/historical value
4.5
Review
Updates
This track is up there with the best, one of the most scenic tracks to ride in Tasmania. We started at the Murchison Highway turnoff, and did the complete loop. It starts by following the powerlines under the shadow of Mount Murchison, which is amazingly beautiful. After a few little climbs it then follows an old railway line through very lush rainforest, with some technical climbs, fast descents, and lots of mud!

The downhill run into Rosebery is phenomenal, with some very technical challenges, and some amazingly fast and flowy track through the undergrowth.

Make sure to ride this in summer as it's still very damp (and dark) even on the sunniest of days!

Also, you should definitely take a GPS with the course loaded - there are lots of offshoot tracks and it would be easy to get lost here.

Overall, I can't recommend this track enough. Definitely not one to be missed if you are on the West Coast.
Would you recommend?

Comments