3 results - showing 1 - 3
Key Statistics
Distance
Day 1 - 40km, Day 2 - 15km
Maria Island makes for a great overnight cycling trip, allowing you a chance to not only explore the more commonly visited sites on the Northern Island, but also a chance to head down to the much less visited Southern Island.

The route described below sets aside the first day for a leisurely exploration of the Southern end of the Island on the first day, overnight camping at Encampment Cove, and then a walk up Mt Maria and exploration of the more visited Northern end of the Island on the second day.  However, once on the Island, you can mix and match the rides to your own liking and unless you're really keen to get away from it all, it might make more sense to base yourself at Darlington and just do day trips (see route options).

Maria Island has an amazing abundance of wildlife, so it can be worth taking a good torch for a bit of a night time look around.
This route heads out from Derby to the top of Rattler Hill, before heading back down again on some crazy steep descents, flowing trails and challenging single track.  The best time to ride this route is as part of the Blue Dragon Race when the trails are well marked and cleared, but for those who want to take it at a more leisurely pace, anytime of year is good to ride this trail.  This ride is challenging and you'll climb a total of 1,600 metres (broken up in many stages) over its 53kms, but it is worth it, with great riding, lovely forest and river sections, a possible detour out to Mount Paris Dam and great views from the top of Rattlers Hill as its reward.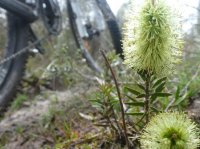 This 20km circuit will interest both those who like to leisurely explore new areas on their bike as well as those who like their biking to have a bit of adventure and challenge.  The circuit follows old 4wd tracks and is pretty flat the whole way around.  Any reasonably fit cyclist could tackle the ride, but there's a few tricky sections (and lots of mud) so be careful on this one.
3 results - showing 1 - 3