Mt George Trails - George Town Trails
Mt George Trails - George Town Trails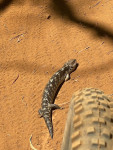 Key Statistics
Time (hrs)
1-4 hours depending on options
Last Visited
December 28, 2021
Land Tenure
Local Government
Private Land (Access Permitted)
Location
Where
Mount George, George Town
The Mount George Mountain Bike Trail Network currently consists of about 16kms of trails (March 2022), but these trails consist of a compact series of loops with two main climing trails (Keystone and Roca Del Vista) and then 6 or 7 descending trails (depending on how you count them).  The climbs are scenic and pretty easy, the descents are usually pretty fun and short.  With the option of a shuttle from the main trail head on Mount George Road to the Mount George Lookout, this is a fun place for all fitness levels and aspirations.
GETTING THERE
It's pretty well signed, but heading up from the south, you'll go past the turn off to Bridport road on your right and then soon after enter a big roundabout with a turn of to the left to Bell Bay.  If you reset your Odo here it is just over 2kms to the turn off to the mountain bike, which is on your right just past the 80km speed zone signs.  Turn up this road (signed to the refuse station) and drive for about a kilometre until you will see the mountain bike signs and you can then pull into the main parking area for the trails.  The shuttle currently leaves from here.
ROUTE OPTIONS
There's lots of options for rides, but if you want to get started, I'd suggest riding up Keystone to the top car park, and if it's a nice day I'd make the effort to go the extra 200 metres to the George Town lookout (follow the wooden board walk up and then just ride back down the road afterwards).  From the top car park follow Buzzcut to Desperado, leave Desperado at the bottom of the descent and head back up Roca Del Vista and then take your pick of 6061 (Blue - Flowing), Gadanga Dang (Blue - Technical), Helter Smelter (Green) or Megawatt (Black) to come down again.
Depending on your time, and your desire to climb, you can then either do multiple loops up Roca Del Vista to try the other descents from Bell Bay View eastern trail head, or you can head back out along Desperado to the main car park and either ride up Keystone to try some of the other descents from there.  Alternatively, you can hand over the cash and start shuttling all these runs.
The shuttle to the Mount George Lookout car park is very short - it's only about 900 metres by road to the top of the runs from the main trail head, and only takes a few minutes.  The road is a public road, so if you've got your own vehicle and  a willing driver then you can do your own runs for free.  The road is steep, and for anyone thinking of doing a quick run up the road on their bike to save time, my advice would be that unless they have an eBike, I'd stick to riding up Keystone. 
WARNINGS
I had good moble reception (Telstra) the whole way around, so just be careful and follow all the usual common sense rules of mountain biking.
Map
Editor review
Scenic/cultural/historical value
3.0
Review
Would you recommend?

User reviews
There are no user reviews for this listing.
Resources
Official Site
Commercial Providers
Official shuttle service for the Mount George MTB trails
Blogs, Articles etc.
{{#ratings}}
{{#editor}}
{{/editor}} {{#user}}
{{/user}}
{{/ratings}}
{{title}}
{{#ownerCreatedBlock}}
{{#owner}}
{{#url}} {{#avatarSrc}} {{/avatarSrc}} {{^avatarSrc}} {{& avatar}} {{/avatarSrc}} {{name}} {{/url}} {{^url}} {{#avatar}} {{& avatar}} {{/avatar}} {{name}} {{/url}}
{{/owner}} {{#created}}

{{created}}

{{/created}}
{{/ownerCreatedBlock}} {{#category}}
Category:
{{category.title}}
{{/category}}
{{#fields}}
{{#showLabel}}
{{label}}:
{{/showLabel}}
{{& text}}
{{/fields}}