2 results - showing 1 - 2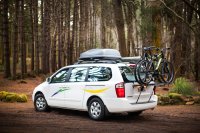 Location
Where
Located in Hobart, Launceston, Devonport, Burnie and Wynyard
Autorent Hertz Tasmania is now offering campervan with quality (thule) bike racks.  They also have a range of alternative vehicles like dual cab utes, cargo vans and 8 and 12 seat people movers along with luggage trailers which all can serve groups of riders.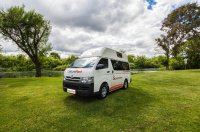 Location
Where
Launceston, Hobart & Devonport
We'd love to help you create lasting memories as you "explore Tasmania your way!" by hiring a LeisureRent Campervan. With rental locations in Hobart, Launceston and Devonport your holiday adventure begins and ends wherever you choose. We're one of the few State-wide campervan hire operators. You'll feel right at home in one of our current model rental campervans and have all you'll need for a cost-effective holiday allowing you to experience the beauty of Tasmania in reliability and comfort. A campervan is the perfect way to explore all of the MTB trails Tasmania has to offer.
2 results - showing 1 - 2