Peter Murrell Reserve
Hot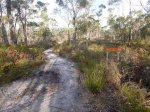 Key Statistics
Last Visited
July 30, 2011
The Peter Murrell Reserve, on the southern edge of Kingston, contains a network of tracks which are available to mountain bikers.  This route basically takes you on a circuit around the park and would be a good ride option for families looking for a day out with the kids with its easy to moderate riding and with dams, bush and wildlife to explore.
GETTING THERE
From Hobart, head down the Southern Outlet towards Kingston, then continue on towards Margate on the Channel Highway.  You'll come to a major roundabout next to a Mitre 10 Store (known as the Fork in the Road roundabout). 

Follow the roundabout exit into Huntingfield Estate (as though you were going to the Mitre 10).  Approx 700 metres down this road you will pass a big call centre on your left and just on the other side of the call centre you will see a gravel road heading down beside the call centre to your left.  There is an obvious "Peter Murrell Reserve" sign at this junction.   Follow this down to the car park at then end (300 metres).
FACILITIES
There are no facilities in or directly around the park area.
ROUTE OPTIONS
You can visit www.thelist.tas.gov.au and zoom in using ListMap to get a good idea of the firetrails in the reserve.
However, once you've done this circuit you'll pretty much know the boundaries of the reserve and from there you can head off an explore the rest of the trails.
WARNINGS
This is a very popular reserve with locals walking their dogs, and it is not uncommon to come across families with young kids and animals in unexpected places, so take it easy with the speed.  If that doesn't slow you down, then I've also seen plenty of snakes in this reserve, so watch out for them as well.
Phytophera is also spreading through this park which is another reason not to go off track and to wash your bike down after you've been for a ride.
ROUTE DETAIL
From the carpark, head straight down past a gate and across the creek into the reserve.  You will come almost immediately to a T Junction, turn right to follow the trail down alongside the creek.

DETOUR: For those looking to extend their ride slightly it is worth turning left and following the trail back up coffee cup creek.  You'll come to a gate after 250m, but a track to the left (creek side) of the gate  continues to wind it's way up along the creek and after 750m drops you out on Patriarch Road behind Mitre 10.  Retrace your steps from this road.

Continue straight ahead ignoring several tracks off to the right and left, until 1.5kms from the start you come to Link Fire Trial to your left.  Follow this track for a further 200m where you will come out onto a major firetrail (Howden Fire Trail) running under the powerlines.  Turn left and start heading up the hill.

2.2kms from the start (500metres up this trail) another firetrail,McVilly Fire Trail, branches off to the right.

DETOUR: For less experienced riders, I would recommend just continuing up to the top of Howden Fire Trail as the McVilly Fire Trial includes a steep, muddy descent and then quite a bit of an uphill climb.

Follow McVilly Fire Trail as it climbs for a bit, then descends steeply down and across a small creek.  Noting that this descent can be quite technical in wet conditions.  After crossing the creek you will emerge out into a grassed area.  The trail heads up and to your left slightly, before joining the reserves boundary fire trail (2.8kms from start).  Turn left and follow this trail as it heads up towards Brightwater Road (3.6km).   Good news is that this is the top of the reserve and it's mainly down hill from here.

Continue to follow the fire trail as it winds around the reserve.  At 4.9kms you will come out at the top of the Howden Fire Trail into a small car park.  Just follow the gravel road for 150 metres before you will again see a trail continuing around the firebreak.  Ignore a turn off onto Middle Fire Trail at 5.4km, just after which you start a fun descent down towards the end of Lady Penrhyn Drive.  Just keep following the track you are on as it runs downhill besides the main road until it emerges onto an intersection with a gravel road (5.8km), go right along this gravel road and you will go past a small  building on your left.  Continue along the firetrail you are on until it emerges back out onto Lady Penrhyn Drive (6.2km).

Turn left and follow the road to the corner, less than 100 metres further along, before re-entering the bush on another fire trail.  At 6.6km you will come to another four way intersection.  This time turn left and head down the Sandflats Fire Trail.  You will cross the trail you started out on (7.1km) which you can follow back to your car, or to avoid backtracking, you can follow Sandflats Fire Trail through the opening in the fence, down across coffee creek and up the other side, before turning right and following a trail through the grassy verge back up coffee creek, past Heron and Penrhyn Ponds and out to your car (8.2km).

Along the course of this circuit you should come across several signs which show you the other trails in the park which you can explore on a mountain bike, so once you have a feel for the reserve head out and explore.
Map
Editor review
Scenic/cultural/historical value
1.5
This is a road for the locals. Try the Kaoota Railway Loop which gives you a peek at this reserve, but adds a lot of other better places besides.
Review
Would you recommend?

User reviews
There are no user reviews for this listing.
Resources
Official Site
Official trails information for the Peter Murrell Reserve
{{#ratings}}
{{#editor}}
{{/editor}} {{#user}}
{{/user}}
{{/ratings}}
{{title}}
{{#ownerCreatedBlock}}
{{#owner}}
{{#url}} {{#avatarSrc}} {{/avatarSrc}} {{^avatarSrc}} {{& avatar}} {{/avatarSrc}} {{name}} {{/url}} {{^url}} {{#avatar}} {{& avatar}} {{/avatar}} {{name}} {{/url}}
{{/owner}} {{#created}}

{{created}}

{{/created}}
{{/ownerCreatedBlock}} {{#category}}
Category:
{{category.title}}
{{/category}}
{{#fields}}
{{#showLabel}}
{{label}}:
{{/showLabel}}
{{& text}}
{{/fields}}