Reuben Falls (Tahune Airwalk)
Reuben Falls (Tahune Airwalk)
Hot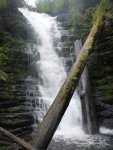 Key Statistics
Distance
49km (plus 2.5km walk)
Last Visited
August 14, 2011
Land Tenure
State Forest
Regional Reserve
This route is mainly on gravel roads, but don't let that put you off as there's some great highlights along the way including a beautiful section of old trail running up along the Huon River which will have those who don't mind getting wet and muddy grinning from ear to ear.  Add to this a trip past the once controversial Southwood site, a visit to Glovers Bluff, a walk out to Reuben Falls and of course starting and finishing at the Tahune Airwalk ... This is a good day out.
GETTING THERE
The two most obvious starting points for this ride are either the Tahune Airwalk or the carpark beside the river just below the Southwood Site.

These notes assume you start at the the Tahune Airwalk which is about 90kms drive south of Hobart. The way to the Tahune Airwalk is well signed once you're on the highway to Huonville so just follow the signs down to Geeveston where you turn off and head the last 28kms out to the site. It's about a 90 minute drive all on bitumen roads.

Alternatively you could start this ride near the Southwood site (there's a large car park beside the Huon River just below the site) as it is a shorter drive, but if you don't know how to get there, stick with the Tahune Airwalk start and finish.
FACILITIES
Tahune has a cafe, information centre, toilets etc.
ROUTE OPTIONS
I've included a few small optional circuits in the trip notes highlighting some rougher tracks that you might want to have a go at. Often these tracks are either extremely muddy or overgrown which is why I haven't included them in the main route, but for the hardcore they could make the ride.

I've also included (and would recommend) the walk out to Reuben Falls. This is roughly a one and a half hour return walk (2.5kms return) to a seldom visited little waterfall. It is a pretty rough track in places and very steep at the end, so a pair of reasonable shoes are needed if considering this option.  If you're not planning on walking to these falls it is not worth continuing past Glovers Bluff.


WARNINGS
You cannot ride this route and stay clean and dry. Accept this early and you'll have a lot more fun. Just make sure that you have clean dry clothes back at your car to get changed into and warm thermals if the day looks cold out there.

Although never really far from the Airwalk, this can be a pretty remote area and mobile phone reception is marginal at best, so make sure someone is expecting you back and that you have good gear, especially cold weather gear and at least a basic first aid kit.
ROUTE DETAILS
Ride out of the Tahune Airwalk Carpark back along the road you came in on for about 500 metres and then turn left onto a major gravel road.

Follow this road for approximately 8.1kms from the start where you will have your first decision to make, you can either head down to the left on a small track which heads down away from the road for about 500 metres before it opens up into a wide tangled mess of 4WD tracks which swings around to the right and continues in an easterly direction eventually becoming better abut 10.3kms from the start.

On most days you will find yourself pushing and carrying your bike through most of this section, and it can be bypassed by continuing along the gravel road for a further 1.6kms (so 9.9kms from the start) and then taking the trail on your left to join the trail. Don't worry about getting this too exact, there is a maze of tracks between the road and river but they all pretty much merge into each other.

From this point you will find yourself on a more ridable and fun section of track (although it still has several large and deep puddles). Be aware that at about 11.7kms from the start (assuming you took the off road option) you'll come down a short, but very steep, little hill pretty much straight onto the Arve River which you need to cross. On a good day you can ride across this river but expect to get wet feet and don't be surprised if you find yourself knee deep. On a bad day any attempt to ride across this river will just end up in you going swimming.  I've never been there and not been able to walk across though.

Once across the river head straight up the short climb onto Southwood Road (11.8km). Turn left onto this road and ride across the bridge and up the hill on the other side of the bridge.  Although you can't see it from this point, the Southwood site (which you would have seen as you cycled down here) is just above you on your right.   At 13.5kms from the start (at the bottom of the hill) you should turn left onto Eddy Road.

For those looking for a longer ride, instead of turning onto Eddy Road, an option some riders seem to take is to continue on along Weld Road for another 1.9kms (mostly uphill), then turn left onto Kings Road and follow this for another 2kms where you will see a rougher track heading back downhill on your left. Turn down this and follow it for another 0.5kms where it will drop you out onto Eddy Road, about 250 metres from the junction you started from (so a net gain in distance of about 4.25kms).

I don't think this circuit adds much, so recommend turning left at Eddy Road and following this for 300 metres (13.8kms) until you see a rough bush track heading off into the bush on your left. Make sure you don't miss this junction because this next section is the best part of the route.

The next 4.5kms follow an old track before rejoining Eddy Road (18.3kms). The track can get extremely wet but has a generally sandy bottom so most puddles are ridable (there are exceptions!) and if you don't mind getting your bike wet and muddy this section is awesome fun.

When you come back out onto Eddy Road, you can back track a bit (ie. Turn right) and play on some trails on the other side of the road (see pink lines on map) but eventually you'll want to head left along Eddy Road which will take you through some recent forest operations and then down and across the Weld River (20.9kms) and back up the other side.

There's a bit of old single trail from the old Tahune MTB Marathon days which runs off the junction of the road (Fletchers Spur 2) coming in on your left at 21.5kms, however it is now pretty overgrown and cut short by new logging roads so isn't really worth the detour except for the hardcore.

Instead just keep heading up the road you're on until you come to a T Junction with South Weld Road at 24.3kms from the start.

Note: You will come back through this point and those looking for a shorter route could just turn left now and head back to the Tahune Airwalk.

Turn right at this junction and follow the road a further 1.3kms (25.6kms from the start) until you come to a road heading off to your right. This is the spur out to Glovers Bluff. Turn right up here and cycle the 1.5kms out to the lookout which looks out over the Weld River and Button Grass Plains below. When you've had your fill, turn and head back out to the junction with South Weld Road (28.6kms).

For those not heading onto Reuben Falls turn left here and head back the way you came, but for those who want to do the whole lot, it is another 6.0kms out to the start of the Reubens Falls track (and it is all slightly uphill, which makes for a nice run back).

The start of the track is 34.6kms from the Start and on the right hand side of the road just before you cross Isabella Creek. It was well signed last time I went there, but if not then keep an eye on your odometer.

Leave your bikes here (you may want to walk them into the bush a bit, but be aware this track can be very slippery in cycling shoes). It's a fairly short 2.5km out and back walk (so 1.25kms each way), but the track often has downed trees across it and the last 200 metres is very steep and slippery to the base of the falls. It really is a beautiful little place though if you've got the time and energy to get there.  Allow an hour or so to do this walk.

Once you return to your bike, retrace your steps back past Glovers Bluff and then back to the junction where you came onto South Weld Road (44.7kms from start including walking track). Continue straight ahead and you will usually come to a locked boom gate about 300 metres past this junction. Just get past this and continue on down the road.

It is approximately 5.7kms back along this road to the airwalk (50.7kms) where you started. Once you cross the bridge, there is a disabled access ramp heading up to the restaurant on your left which you can ride/push up to get back to your car.

You are not allowed to cycle around either the airwalk or the swinging bridge trail (as you used to in the MTB Marathon days).
LINKS
Map
Editor review
Scenic/cultural/historical value
3.5
User reviews
Scenic/cultural/historical value
Scenic/cultural/historical value
2.5
There's a lot of forestry road slog in this route, but it's worth it to get out to the falls. The walking track is a little worn, and towards the end the markers are a bit hard to find - but the falls are spectacular (especially in winter!)

If you take the 4WD tracks along the river(s), you'll have a much different experience to taking the forestry roads (whether that is good or bad is up to you)! The 4WD tracks can have a lot of water, and there are at times some extended puddles you'll have to ride or wade. But, you do get a much more offroad ride, with some great side trips down to camping spots by the Huon River.
Review
Would you recommend?

{{#ratings}}
{{#editor}}
{{/editor}} {{#user}}
{{/user}}
{{/ratings}}
{{title}}
{{#ownerCreatedBlock}}
{{#owner}}
{{#url}} {{#avatarSrc}} {{/avatarSrc}} {{^avatarSrc}} {{& avatar}} {{/avatarSrc}} {{name}} {{/url}} {{^url}} {{#avatar}} {{& avatar}} {{/avatar}} {{name}} {{/url}}
{{/owner}} {{#created}}

{{created}}

{{/created}}
{{/ownerCreatedBlock}} {{#category}}
Category:
{{category.title}}
{{/category}}
{{#fields}}
{{#showLabel}}
{{label}}:
{{/showLabel}}
{{& text}}
{{/fields}}