Trig Hill Circuit
Hot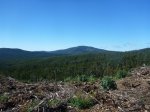 Key Statistics
Last Visited
April 12, 2014
Trip Hill is not a ride for everyone, in fact I think it would best be described as a ride for the crazy ones.  For a start it's a ride up a hill from which you get no view, several of the best sections are currently so overgrown (April 2014) that I found myself pushing my bike downhill, a lot of the riding is through recently harvested forests and yet … if you're in the area, you've ridden all the other rides and you're looking for some good old fashioned bush tracks that and don't mind the odd hike-a-bike … well you could just enjoy this little ride.
GETTING THERE
You can follow a variety of forestry roads to this track, however the easiest way to navigate there is to head to Scottsdale, and then head out on the North Scottsdale Road (C832) signed towards the hospital (the same road that leads out to the
Mount Stronach ride
).
This road becomes the Old Waterhouse Road after North Scottsdale, and it's 19.8km from the Scottsdale junction to the Oxberry Road junction where the ride begins.  The first 6kms of road are bitumen and then it is a good gravel road the rest of the way.  You will pass a couple of signed junctions off to the right which you should ignore, particularly the signed junction to Forester, at 18.8kms.
Oxberry Road heads off to the right and is signed.   There is plenty off room to pull off and park on the left hand side of the North Scottsdale Road.
You can also get here from Bridport by following the highway out towards Tomahawk / Gladstone for 22.5kms, then turning left onto the Old Waterhouse Road (signed to Scottsdale).  It is a further 12.7kms from this junction to the turn off to Oxberry Road.
FACILITIES
There are no facilities past Scottsdale or Bridport.
ROUTE OPTIONS
You could ride this circuit in either direction, but anti-clockwise will mean more of your up hill riding will be done on roads, and more of your downhill riding on tracks.
It is worth taking a print out of the area and checking out potential exit points before going as this ride is not for everyone and you might want to bail part way in and therefore find the easiest way back to your car.
There are also plenty of other trails in the area you could go and explore, but I'm not sure what they will add.
WARNINGS
This is a pretty remote ride and other than the occasional wood collector or motorcyclists you're unlikely to meet anyone else out on these trails if you get in trouble.  Navigation can be tricky (I'd recommend taking a GPS with the route on it), pushing is likely in sections, and there could be lots of small branches over the track that are hard to see.  There's also a good chance of coming across snakes in summer.
I had at least some mobile coverage (Telstra) in the area as I heard my phone beep a few times, but don't rely on it, and as always let someone know where you are going and when you are getting out.
ROUTE PROFILE
ROUTE DESCRIPTION
See route map at the bottom of this page.
Head up Oxberry Road, from which there are two ways to get onto the track.  At the top of the first little climb that you see in front of you when you turn up the road, look out for an obvious motorbike trail cutting into the bush on your right (it also comes in from the left).  You can either jump onto this, or if you miss it continue on for another couple of hundred metres, and then 900 metres from the junction, just before a small creek, jump onto an old overgrown bush track which is the 'original' trail.  These two trails both connect just up the hill.
Follow this motorcycle / bush trail up and around the hill until 1.7kms from the start it will come out onto a more substantial 4WD trail, turn right onto this and continue on it for a further 0.9kms where it will come out onto a gravel road (2.7kms).
Turn right, and then 50 metres further on at another junction, turn left (White Hill Road, unsigned) and then continue climbing up the hill through a large, recently burned area, and then up to the top where you will emerge out into another recently harvested area with a road leading off to your left (4.6km) and a pretty good view out over the coast.  The views you get going up this section are probably some of the best of the day … just letting you know.
Head left down the road at this junction for about 300 metres, then turn right onto an unpromising little in-coupe road.  This is in fact a steep, sharp descent down to the bottom of the coupe which good riders will love, beginners … well, you probably shouldn't be here.
At the bottom of this hill, tracks seem to go all over the place, but if you follow what looks like the most used track, it curves around a landing and then starts to head down a couple of switchbacks.  At the first switchback which turns sharp left (5.6km) you actually want to jump off the road (at the switchback) onto a small and very overgrown track that heads into the bush and sharply back to the right.  It had a piece of blue tape there when I rode it.
This next section was largely unrideable when I went through it due to the number of small trees and branches pushed over it, but I cleared quite a few and if others do the same then this will open out into one of the highlights of the ride.  At the moment it's not so fun.
Push or ride your way along this trail for 400 metres, being very careful to keep your eyes out for a small track heading off the main trail just before the main trail turns to the right and heads uphill (trust me, you don't want to follow the main trail!).  
Jump onto this small track (6.0kms) and follow it for another 350 metres.  This little section is quite pretty and also, thankfully, pretty short as it is still very overgrown.  It takes you around and over a small creek and then emerges out onto a cleared firebreak around a junction (6.4kms) where you can get back into riding mode.
Tun left onto this fire trail and just follow it around the coupe and out onto a gravel road (7.4kms).  Turn right and follow this gravel road and follow it for 3.1kms as it winds around and then up to a saddle (10.5kms).  At the top of this saddle turn left onto another smaller gravel road and enjoy a lovely climb up towards the top of Trig Hill through an amazing grassland area.
At the top of this grassland area (11.9kms), the track continues (very steeply) into the plantation at the top right corner of the clearing.  You'll probably need to push your bike up this last pinch, but it's not far (200 metres) until you come out into a small clearing … with absolutely no views except the trees around you.
Two trails head off from here … one to your right and and one in front of you to your left.  Take the track heading off in front of you to your left as it continues the last little bit to the top of the hill (pretty easy riding) and then starts descending down the other side.
Like the other overgrown section, this descent could be a real highlight of this ride, but in its current state it is just a pain in the neck with small overgrown branches and trees every 20 or so metres largely ruining the fun descent.
Eventually this emerges out into another clear felled coupe (13.9kms).  Continue straight ahead up a small climb and then you can finally enjoy the descent, albeit for a short while, as you descend sharply down onto Oxberry Road (14.5kms).
When you reach Oxberry Road at the bottom of the harvested area, turn left and follow it down and across a small creek,and then just after this creek (15.0kms) look for a bush track on the right hand side of the road and head in.  This track initially climbs sharply (but briefly) and then crosses a road and rewards you with a lovely sweeping ride back down to join Oxberry Road (16.6kms).
Turn right again and follow the road across another small creek, and then look for the track heading off again on your right as you ride up the small hill on the other side of the creek (16.8kms).
Jump onto this track and follow it as it plunges and ascends several steep gullies before emerging out onto another gravel road at 19.4kms, turn right onto this road and follow it but only for around 200 metres, where you again turn left (19.6kms) and follow a track downhill.  At 20.1kms the track seems to fork and you want to take the main left fork as it plunges downhill, crosses a creek, then crosses another gravel road (20.2kms).
After one last small climb this track then gives you a final downhill run all the way back to Old Waterhouse Road (22.4kms) where you will see you vehicle about 300 metres along the road to your left.
RELATED LINKS
Tassie Rambler Blog - visit 4 April 2014
Map
Editor review
Scenic/cultural/historical value
2.0
User reviews
There are no user reviews for this listing.
{{#ratings}}
{{#editor}}
{{/editor}} {{#user}}
{{/user}}
{{/ratings}}
{{title}}
{{#ownerCreatedBlock}}
{{#owner}}
{{#url}} {{#avatarSrc}} {{/avatarSrc}} {{^avatarSrc}} {{& avatar}} {{/avatarSrc}} {{name}} {{/url}} {{^url}} {{#avatar}} {{& avatar}} {{/avatar}} {{name}} {{/url}}
{{/owner}} {{#created}}

{{created}}

{{/created}}
{{/ownerCreatedBlock}} {{#category}}
Category:
{{category.title}}
{{/category}}
{{#fields}}
{{#showLabel}}
{{label}}:
{{/showLabel}}
{{& text}}
{{/fields}}