March 2014 Event Updates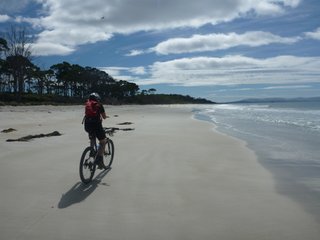 I don't know what to be more excited about for March ... the upcoming State Election (anyone seen any bicycling related election promises?) or Tas Bike Week (which in true Tasmanian style will be running for a week and a half).  Given that Bike Week  has my own Acton MTB Rogaine event tucked in it, I think I'll go with Bike Week.

Due to Bike Week, the calendar this month is absolutely overflowing with rides and riding related events and I won't try and recount them all, just go and check out the Tassie Trails Events Calendar or go direct to the Bike Week website and see for yourself.  


Outside of Bike Week, there's still a full on calendar of MTB events going on including the CCMBC hosted Paloona Downhill Series (9-10 March), the Dirt Devils Kellevie XC event (16 March), the LMBC hosted Sprung 2Hr Sprint Series at Hollybank (23 march), followed by the Dirt Devils double header at Glenorchy Mountain Bike Park (29-30 March).  Clicking over into next month there's also the LMBC Forestry Tasmania King and Queen of the Mountain (Ben Lomond 6 April).
Looking out a bit further in the calendar, entries have just opened up for the Hellfire Cup (20-23 November, and I also noticed the first hint of a date (25 May) for the Icebreaker Multisport up in Launceston ... which I'm proud to announce (subject to the date being confirmed) Kim and I have agreed will be where we lock horns and compete man vs woman to see which of us can beat the other, and more importantly in my case, beat the cut off times.  If ever you've wanted to enter a solo multisport event with the knowledge that someone will be finishing after you ... this could be your moment.
Also excited to see that Hobart Bushcare is running a few track building/maintenance days for the Tip Top Track near South Hobart and I'm hoping to get along to the first of these.
Other than that, there's been a few dates published for some of the bigger running events, but the cycling calendar is going a bit quiet as we head into April.  
Still it's a good time of year to ride, and the photo above is from a recent weekend ride down around
Southport Lagoon
 ... which is my way of reminding people that you don't need a race to go for a ride ...
Note: Links were removed from this article in Decemeber 2019 as most were no longer live.
Stay Informed
When you subscribe to the blog, we will send you an e-mail when there are new updates on the site so you wouldn't miss them.
Comments
No comments made yet. Be the first to submit a comment