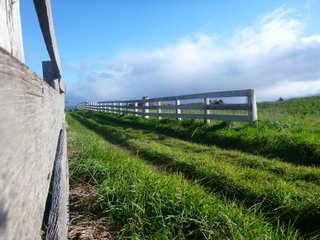 Who else is cranky with the Dirt Devils MTB club? imagine running the first cyclocross race down south last month with practically no notice or advertising!  Shame. Shame. Shame.

But I'm quick to forgive ... largely because the dates (if not the venues) for the next three races are now up on their website, with the next one being held on July 20 at St Virgils.  It's in my diary so hope to see you there.

The big news of the month has to be around the Meehan Ranges ... I'm just not sure if the big news is (a) the announcement of the Meehan Monster MTB Race on October 26 (Hobart Show Day weekend), (b) the opening up of the new Golden Hill single track (brilliant work guys) or (c) the committment by Clarence City Council to fund a months professional trail building to get the Draft Meehan Range Strategic Trail Plan underway (source: Dirt Art FB).  Heck it's all big news.

Getting back to events, there's not much competitive stuff going on, but on the social riding front this month you've got Dirt Devils tanagara trail adventure ride (July 6), Launceston Mountain Bike Club's Mt Stronach ride (July 20) and TBug's Kate Reed ride (27 July) and rolling over into August there's a similar offering from the clubs plus the Ben Lomond Descent (multi sport) on August 3 which for those of you pinning for the loss of the Winter Challenge could be the way to get your winter multisport fix. 

Looking out into the future, there's been a few additions to the "mud running" calendar with another Tas Mud Run event scheduled near Evandale (Sept 21) and a new venue (Baskerville railway) with two new dates for the Raw Challenge down south.  Entries to the Cranky Penguin MTB race are also now open ... a race that sold out pretty darn quickly last year.

In other news, the work on the holly bank trails continue apace with a likely opening date later this year, the Dorset Rail Trail group has recently announced a development application to extend the Dorset Rail Trail from Tonganah out to Scottsdale which will be a big step in making the trail more attractive in my opinion, and in other signs of how mountain biking is going from strength to strength, Tourism Northern Tasmania have just hosted a forum on the potenial of cycle tourism with many of the papers now available to view online.

All these events and more are on tassietrails event calendar.


Stay Informed
When you subscribe to the blog, we will send you an e-mail when there are new updates on the site so you wouldn't miss them.
Comments
No comments made yet. Be the first to submit a comment