Latrobe-Kentish Mountain Bike Trail Network Proposal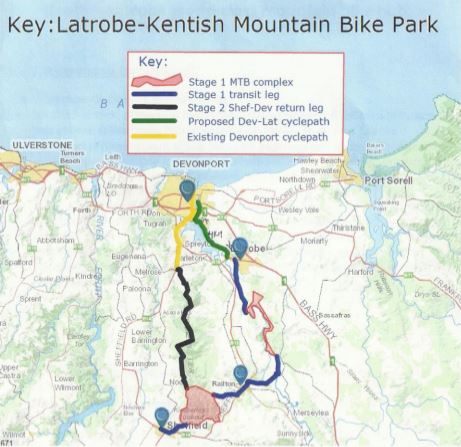 Just when I thought news for mountain biking in Tasmania couldn't get much better, another trail plan has popped up from a group of riders quietly working away developing a plan for a new Latrobe-Kentish mountain bike trail with not one, but two, mountain bike parks included.
The plan involves a road side pathway from Devonport to Latrobe along the river road, then to Shale road where a MTB park would be created with easy to ride trails through the hill alongside the Warrawee reserve. From there the trail would cross the river to Railton, then to Sheffield where a more advanced park would be built with down hill runs included  (Yes, if you're wondering this does sound like it follows the current Tasmanian Trail route). From there a trail across the top of the Badgers will take riders back towards Devonport and onto the Devonport's cycle way.
From what I've been told the two councils are getting behind the proposal, and although still early days, you have to admit it would fill a nice gap in the mountain biking map of Tasmania.
If you're interested in tracking this one more closely, then a facebook group has been set up titled "
Latrobe-Kentish Mountain Bike Trail Network
".  Expect to see more updates on tassietrails.org for this one as well.
Stay Informed
When you subscribe to the blog, we will send you an e-mail when there are new updates on the site so you wouldn't miss them.
Comments
No comments made yet. Be the first to submit a comment