Kentish-Latrobe mountain bike park update - 30 September 2014
The Kentish and Latrobe councils are jointly exploring the development of a world-class mountain bike facility, stretching from Sheffield to Devonport.  
The facility is proposed to be built to achieve a Silver Rating under the IMBA Ride Centre evaluation criteria. Only one Australia venue presently has this rating.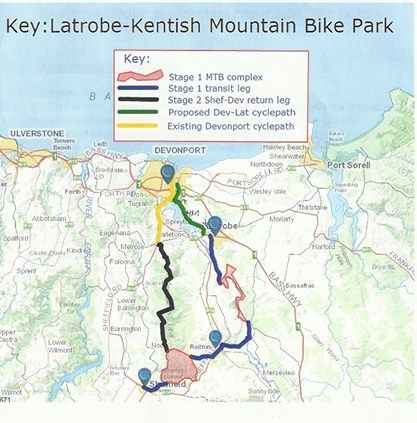 What we propose:
It is proposed the facility will comprise:
a hub of about 28km of single-purpose trails (blue, green, black and double-black standards), to be built on the eastern side of The Badgers range, between Sheffield and Railton
a hub of about 8-10km of single-purpose trails (likely mostly green and blue standard) at Warrawee Reserve, about 5km south of Latrobe.

A linking track from Warrawee reserve, across the Mersey River to Railton (where it links with the Kentish trail hub)

A linking track traversing The Badgers ridgeline from Sheffield to the southern outskirts of Devonport, at Spreyton (where it would connect to the existing Devonport Council bike path network)

An off-road bike path (hard surface, suitable for mountain and road bikes) along River Rd, to connect Devonport to Latrobe.
In total, this would provide a loop of trails that would make it possible to ride the approximately 70km loop including Devonport-Latrobe-Railton-Sheffield-Devonport, without ever riding on a road.
Further, it is envisaged the hubs would include trails suitable for cross-country, gravity (down hill) pump track, a pocket park and other mountain bike disciplines. We are proposing at least 4 trail styles be included in the Master Plan.
 How we propose to do it:
Kentish Council has this week engaged a consortium including international tourism consultants TRC Tourism (responsible for many of the Rotorua MTB precincts in NZ) and World Trail (who designed some of Australia's highest profile trails including Mt Buller, Stromlo, Falls Creek and the world cup courses at Cairns, as well as the majority of the new facility being built in Tasmania's north-east.
TRC Tourism-World Trail will create a Master Plan for The Badgers hub of trails, and the link trails to Warrawee and Devonport. This Plan will include trail design, environmental and cultural assessments, and design of ancillary facilities such as trail heads, shelters, car park etc.
Separately, Latrobe Council is taking a slightly different approach to the Warrawee trails. Latrobe Council proposes to review the Master Plan developed by TRC Tourism-World Trail for Kentish, and decide how Warrawee best fits into the picture after that. It is Latrobe Council's intent that the local mountain bike community have a significant role in trail design at Warrawee. The Warrawee area will include the redevelopment of some existing informal trails (used by trail bike riders, horse riders and mountain bikers for years) into formal mountain bike trails.
Negotiations are continuing with land managers Parks & Wildlife Service, and Forestry Tasmania.
The role of the Cradle Coast Mountain Bike Club:
 Both councils are keen to work closely with the CCMBC and its members on the design and construction of the trails. In the Kentish case, this would include close liaison with the consulting company over the next 2-3 months. In the Latrobe case, it would include CCMBC working with some other local enthusiasts to develop a trail design for Warrawee.
The councils would welcome any level of CCMBC involvement. CCMBC would be welcome even to have a role in future management of the trails and we would certainly view favourably any events CCMBC may wish to host at the Kentish-Latrobe park in future.
What we seek now:
TRC Tourism-World Trail consultants are likely to hit the ground in Tasmania in late October. At that time, we wish to have a formalised local community group established, which would include CCMBC members, and other local enthusiasts.
Before that occurs, I wish to gather all interested parties for a meeting at Sheffield Hotel, on Monday October 13, where you can ask questions and we can discuss what locals can do to be involved in this exciting project.
I wish to welcome all CCMBC members who wish to attend this meeting. It is very important to us that the local MTB community be inherently involved in this project and we seek as many CCMBC members as possible to attend.
For further information, please contact Kentish and Latrobe councils Economic development Officer Chris Frankcombe on 6491 0200 or email
This email address is being protected from spambots. You need JavaScript enabled to view it.
The Cradle Coast Mountain Bike Club are now also hosting a webpage dedicated to this project which you can view 
here
.
Source: Letter published on Latrobe-Kentish Mountain Bike Trail Facebook Page.
Stay Informed
When you subscribe to the blog, we will send you an e-mail when there are new updates on the site so you wouldn't miss them.
Comments
No comments made yet. Be the first to submit a comment