The Tasmanian Government has now reviewed the two competing proposals for the North East Railway line and decided to give both parties part of the line to develop. The full media release from Treasurer Peter Guttwein is below.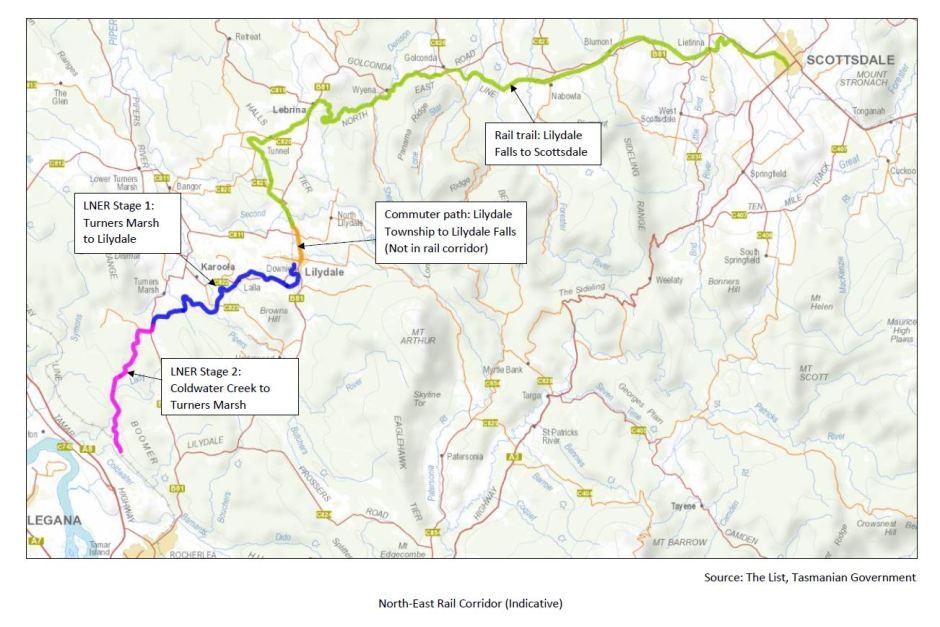 Today, I am releasing the Treasury report regarding both the North-East Rail Cycling Trail put forward by Dorset Council and the alternative tourist and heritage rail operation proposed by Launceston and North East Rail (L&NER) on the redundant North-East Rail corridor.
It is clear that both projects have the capacity to generate economic and employment benefits, both directly and indirectly.
Accordingly, the Government has decided both parties deserve the opportunity to develop this valuable asset to maximise the chances of both projects becoming viable tourist attractions.
To facilitate this:
The Scottsdale to Lilydale Falls section of the North East rail line will be used to establish a cycle trail with a walking and cycle pathway to be created adjacent to the road between Lilydale Falls and Lilydale township; and
The section from Lilydale to Turners Marsh will be offered as stage one to L&NER to gain accreditation and operate a heritage rail service. Subject to successful completion of the first stage, the section from Turners Marsh to Coldwater Creek will be made available and subject to accreditation and scheduling access to the main Launceston to Georgetown line will be considered as well.
This will provide a Heritage rail experience over a total of 21.5 kilometres of non-operational line between Coldwater Creek and Lilydale, as well as access to the 52 kilometre TasRail operational line between Launceston and Bell Bay subject to accreditation and scheduling.
In terms of cycling it allows the Dorset Council to continue what they have started with the existing rail trail between Scottsdale and Billycock Hill being extended to Lilydale, providing around 70 kilometres of cycleways in total.
Allowing both parties to develop their projects will both minimise the costs and risks involved to each party and maximise the chances of both projects becoming viable tourist attractions servicing the State's North East.
The Department of State Growth will now engage with the proponents of the respective projects to progress the arrangements necessary for the Minister for Infrastructure to facilitate access within the existing rail corridor.
The Government's response and various supporting reports are below.
Stay Informed
When you subscribe to the blog, we will send you an e-mail when there are new updates on the site so you wouldn't miss them.
Comments
No comments made yet. Be the first to submit a comment