Tasmanian Mountain Biking and Cycling Tourists 2019
It's been a while since I last looked at what has been happening with mountain biking tourism numbers in Tasmania. This is largely because I convinced myself back in 2016 that the numbers collected and published through the Tasmanian Visitor Survey were a very poor resource for capturing those who actually travelled to Tasmania with mountain biking, or even cycling, as a key driver in their decision to come here.
Just to be clear, this isn't a critiscm of that survey, but a reflecton that you don't find out who has travelled to Tasmania to go mountain biking by asking a small sample of those people who came to Tasmania to tick a box indicating whether they undertook any mountain biking or cycling when they were in the State. That just captures too broad a group of people.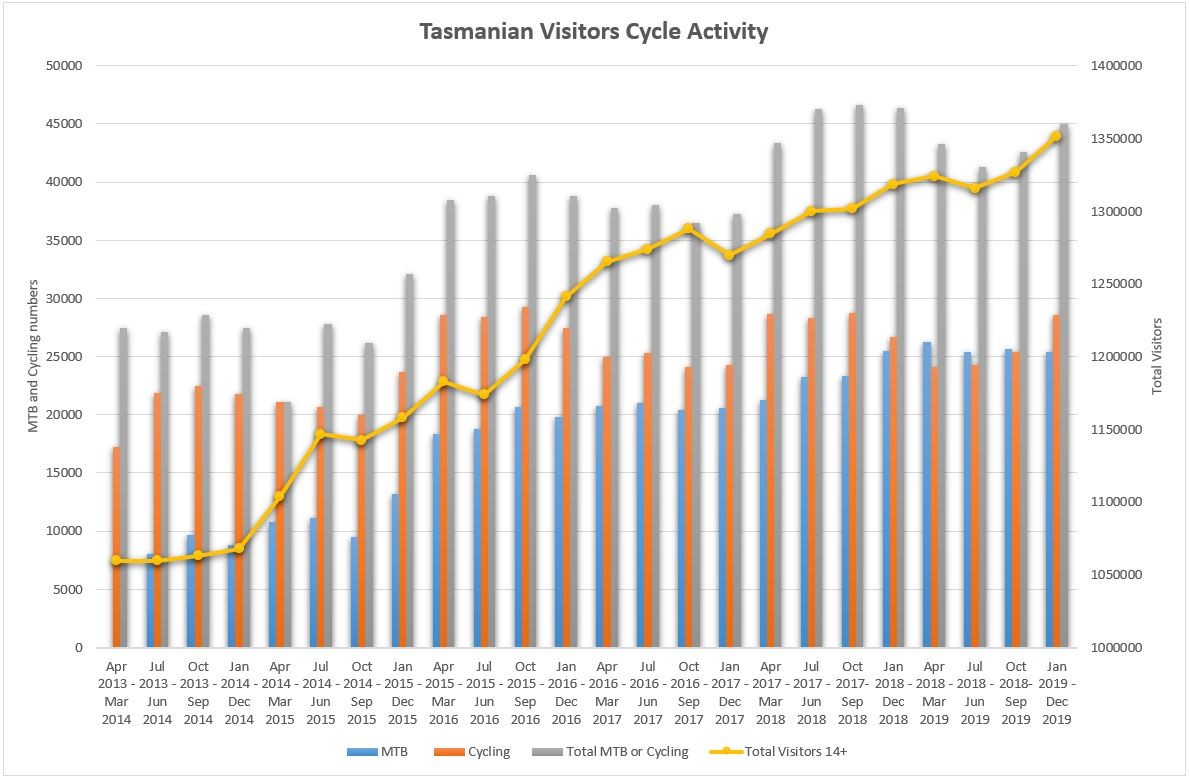 But as it's been a while since I'd taken a peek at the numbers (and with Covid-19 keeping us all off the trails), I thought I'd go back and have another look ...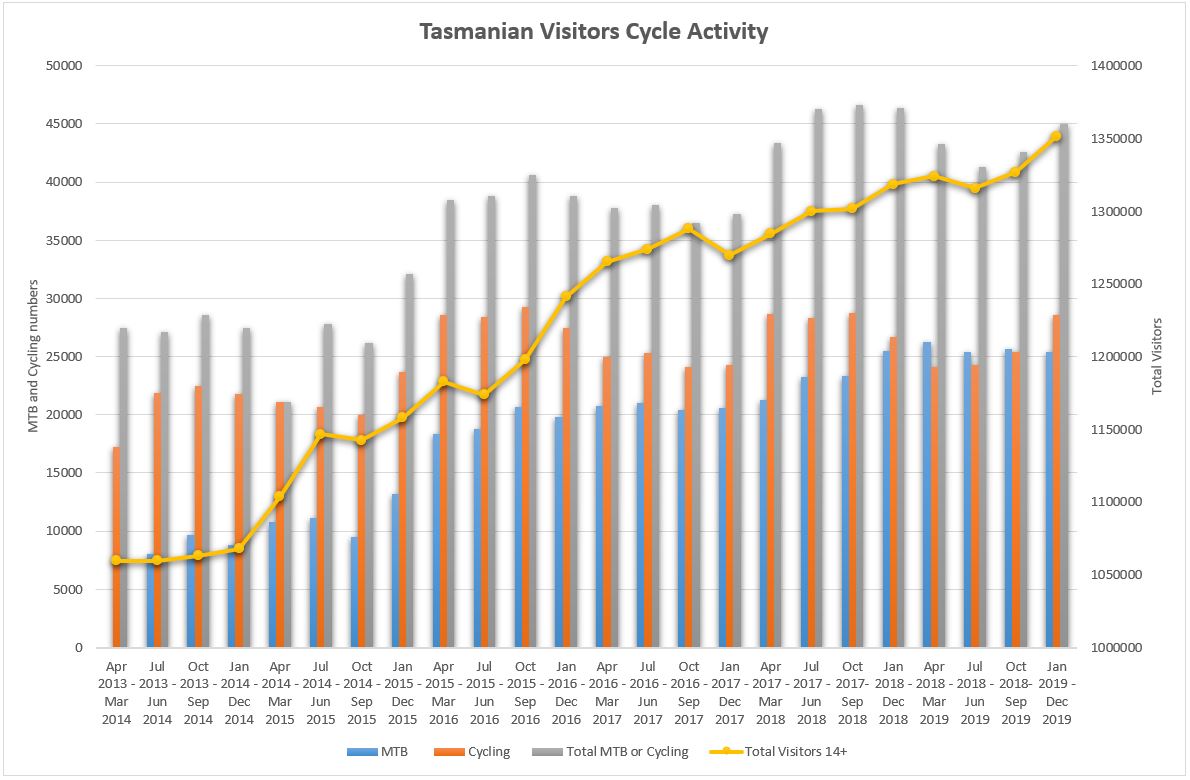 And it's a bit of a case of "same, same ... but different." from what I last saw back in 2016.
After the rapid increase in reported mountain biking numbers from 2013 to 2016, those people reporting have undertaken some form of mountain biking has only been slightly increasing as a portion of total tourists to the state, and those who reported having 'cycled' has actually plateaued. In 2019, 25,421 tourists were estimated to have mountain biked while in Tasmania (1.9% of total visitors), 2.1% cycled and 3.3% either mountain biked or cycled.
To keep these numbers in perspective, this is about the same number of people who indicated they went canoeing/kayaking or sea kayaking (1.9%), sailing (1.7%) or played gold (1.9%) and the total amount of people who either mountain biked or cycled is about the same as those who came and went overnight bush-walking (3.3%). More toursits still went on a train ride (2.9%) than went mountain biking, and there aren't that many trains in Tasmania.
What the actual number of people are who actually came to Tasmania because they wanted to go mountain biking is still an unknown, we can safely say it is a much smaller part of this 1.9% of cyclists caught in this survey. So it is much less than 25,000 people per year, which feels about right to me.
This in no way detracts from the idea of promoting mountain biking as a tourist activity in Tasmania (once we get through this pandemic). It is an activity which can bring toursits to the State, especially as the number of good quality trails continue to increase, it gets these peole out of the main cities and into regional areas to spend money and it plays well with the image of why people want to come to Tasmania.
What this survey does do is provide a useful perspective on where mountain biking sits in the scheme of things.
And hey, come the day when our borders re-open there are going to be a lot of people keen to go for a ride ...
Stay Informed
When you subscribe to the blog, we will send you an e-mail when there are new updates on the site so you wouldn't miss them.
Comments
No comments made yet. Be the first to submit a comment