Winter's Coming ... and so are the events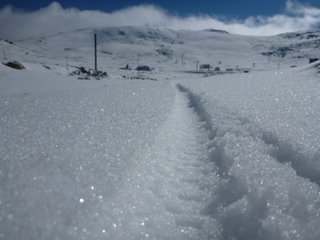 Winter's coming ... in fact as you can see from the picture on the left, I've just been up to Falls Creek for an early play in the snow. However, I'm now back home in Tassie and I've just been scanning event updates, and boy have there been some good additions ...

First and most importantly for all our calendars is the addition of the Acton MTBNav event in January 19, 2014 ... or am I perhaps biased because I'll be putting in the long hours to organise it and it would be nice for someone to actually turn up ... yea, it could be that.

Probably of more interest to most mountain bikers is that entries will be opening to the Wildside MTB Event in just a few more days (start saving quickly if you haven't already because at $620 for an entry it won't be cheap but will probably still book out quickly).

Also grabbing my attention big time is the teaser that Cradle Coast Mountain Bike Club is organising a new MTB marathon ... the Cranky Penguin Marathon (originally launched as the Dial Range Marargon) which is to be a 40km/70km to be held on 27 October 2013 (yes that date has changed due to clash with Burnie 10). Hanging out on more details on that one.

Other notable new events include the release of the Dirt Devils Winter XC Racing Series with longer and longer enduros on offer each round, and the Launceston Mountain Bike Club have some interesting social rides coming up at Kate Reed and Ben Lomond. These are on top of the Dirt Devils Adventure Rides and Cradle Coast Mountain bike club's Goodbye Summer MTB Enduro series which I mentioned last month ... basically it all adds up to there being plenty on in winter for mountain bikers.

Also worthy of note for those looking at other outdoor adventures. Sally's Ride has been moved to December 8 to coincide with the Stan Siejka Cycling Classic which is good enough for me to pencil that into the diary. The Icebreaker multisport is of course looming large on the winter multisport calendar, with the Ben Lomond Descent and Winter Challenge following on in August. Looking further out I also noticed that the second RAW Challenge for Tasmania has been announced for February next year, and I'm hoping this is going to be the most fun I have in the mud - at least without a bike ...

The Tassie Trails events calendar is updated around the end of each month and contains a list of all the mountain bike, road rides and even multi sport and foot events that i find of interest in Tasmania ... so think you might too.

See you on the trails, or if not I'll guess I'll get by having the snow to myself ...
Stay Informed
When you subscribe to the blog, we will send you an e-mail when there are new updates on the site so you wouldn't miss them.
Comments
No comments made yet. Be the first to submit a comment