Ah, if only I had enough time to keep such a page up to date because I realise that it would be a very useful resource ... particularly when you break down in the middle of nowhere and aren't sure where the nearest bike shop may be ...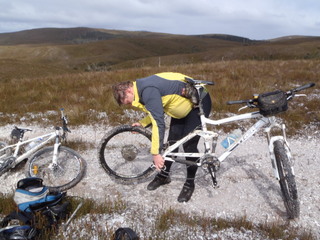 Fortunately for me (and more importantly - you) I don't need to because others do.
Cycling South
maintains an excellent
webpage
listing bike shops and hire places in Tasmania and they're even broken down by region.
The other very useful resource to go to is simply
yellowpages.com.au
. Do a search for "
bicycles shops
" in your town or region (or just in Tasmania) and you'll get a list of all of the main bike shops scattered around the State with the added bonus that you can usually see exactly where they are.
However, if you're broken down and just need basic repairs, also think of the obvious like is there a Big W or K-mart near by.
Once outside the major towns though, bike parts can be few and far between. I do know from recent experience that the
Log Cabin Store
in Bicheno has a limited stock of tyres and tubes, and as and when I stumble across other small places to stock up around the State I'll let you know.