Hobart Council Endorses Riding the Mountain!
The Hobart City Council endorsed the proposed "Riding the Mountain - A Plan for Improved Mountain Bike Riding in The Foothills of kunanyi / Mount Wellington" on 26 October 2020.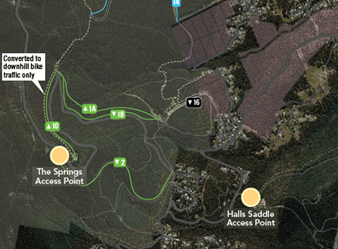 This is a comprehensive plan that responds to a range of issues that were raised by the community during the public consultation on the draft plan earlier this year, and builds on previous engagement with the community over the past 2 years.
The City will now focus on building Rocky Wheel'n (1a) and Free Wheel'n (1b), the two top priority tracks identified in the plan (see image below). These tracks are jointly funded by the City and the State Government's Tasmanian Cycle Tourism Grant and will be built in the first half of 2021.
Rocky Wheel'n (1a) is an easy (green) uphill mountain bike track that will also cater for walkers and runners travelling in either direction. This track will provide a safe link to the North South and Lenah Valley Tracks from the Bracken Lane Fire Trail. Free Wheel'n (1b) is an easy (green) downhill track for mountain bike use only. Together, these tracks will establish an easy loop that is fun to ride regardless of your riding experience.
The City is actively applying for grants to fund the remaining tracks in Riding the Mountain.
You can stay up to date with this project as funding is secured and new tracks are built by visiting the new Riding the Mountain webpage at https://www.hobartcity.com.au/riding-the-mountain.
Source; Community Engagement Newsletter, Hobart City Council
Stay Informed
When you subscribe to the blog, we will send you an e-mail when there are new updates on the site so you wouldn't miss them.
Comments
No comments made yet. Be the first to submit a comment