North East Railway - Planning Application
The long running saga of converting the section of railway between Lilydale Falls and Scottsdale into a rail trail has taken another step forward with the approval of a development application provided to the Dorset Council for the section between Wyena on the Launceston/Dorset municipal boundary and Scottsdale at their meeting on 15 February 2021.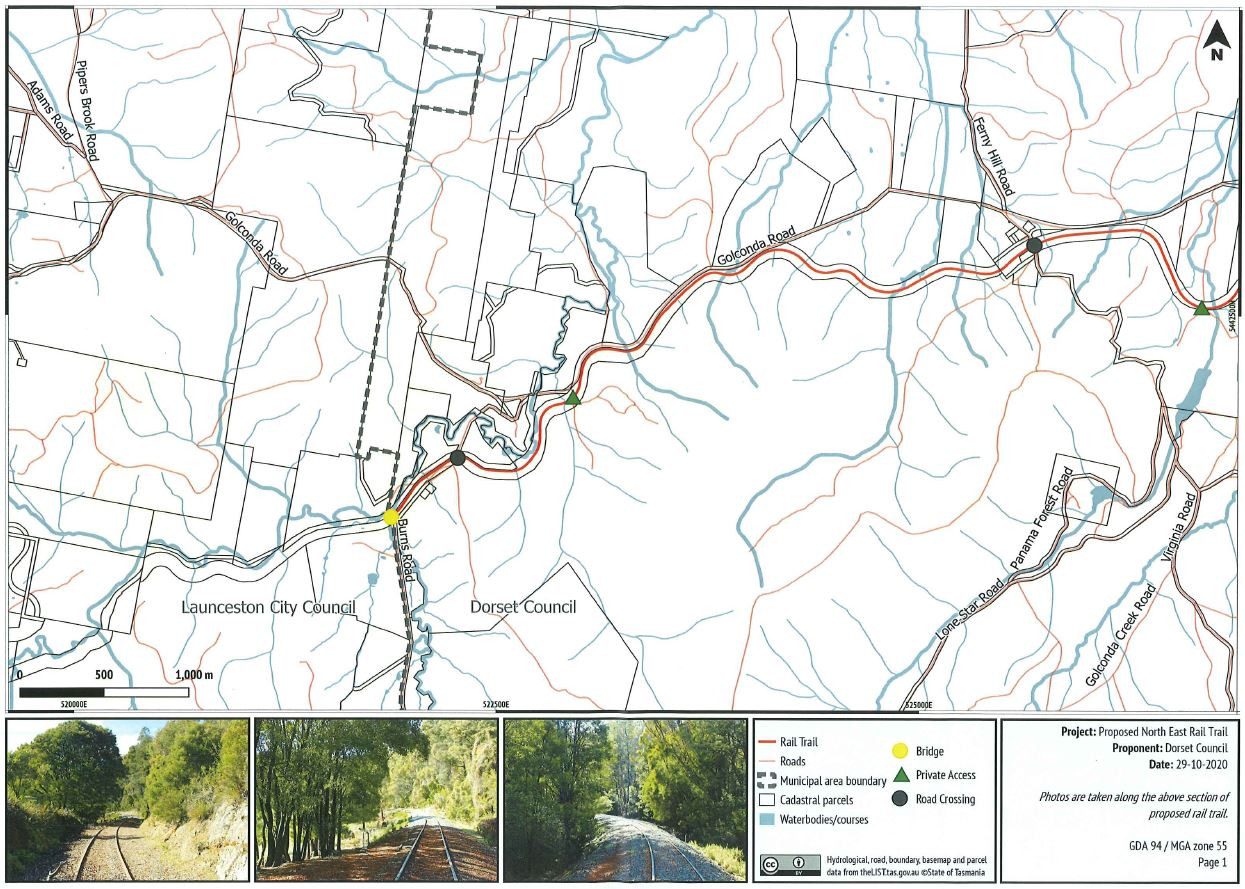 The Examiner Newspaper (p3, Monday February 15, 2021 and P3, Tuesday 16, 2021) reported that more than 1000 people signed a petition asking the Council to cease the conversion of the cycleway, and that the meeting itself was quite heated,
According to the development application, once completed, the proposed Rail Trail project will encompass an approximate 40 kilometre recreational footpath/cycle path network within the North East Corridor from Lilydale Falls through to the site of the former Scottsdale Railway Station.
The project will link with the existing 28 kilometre recreational footpath/cycle path network already established between Scottsdale and Billycock Hill, expanding the overall network to approximately 70 kilometres in length.
The project will involve decommissioning of former rail infrastructure (rail and sleepers), construction of trail surface (crushing of the former rail ballast into suitable aggregate for repurposing of the corridor to a Rail Trail), targeted construction of decking and handrails along bridge crossings, and select erection of associated signage. The trail would be, on average, 2.5 metres wide but would vary between 2-3 metres depending on the exact site conditions of the alignment. Historic rail infrastructure at the former Scottsdale Railway Station site (F/R 50429/3) will remain unaffected as part of the project.
This submission is prepared in support of a planning application for the portion of the Rail Trail that is situated within the Dorset Municipality extending through the North East Corridor from Wyena (specifically from the municipal boundary between Launceston City Council and Dorset Council, proximate to Burns Road) to the former Scottsdale Railway Station ( off Ellenor Street) applies - approximately 26 kilometres in length.
The remaining 14 kilometres of the project's network will be subject to a separate planning application that will be progressed with Launceston City Council.
Stay Informed
When you subscribe to the blog, we will send you an e-mail when there are new updates on the site so you wouldn't miss them.
Comments
No comments made yet. Be the first to submit a comment