Lekker E-Amsterdam Review - One Year On.
My first crisis of faith came a few months into owning my Lekker E-Amsterdam.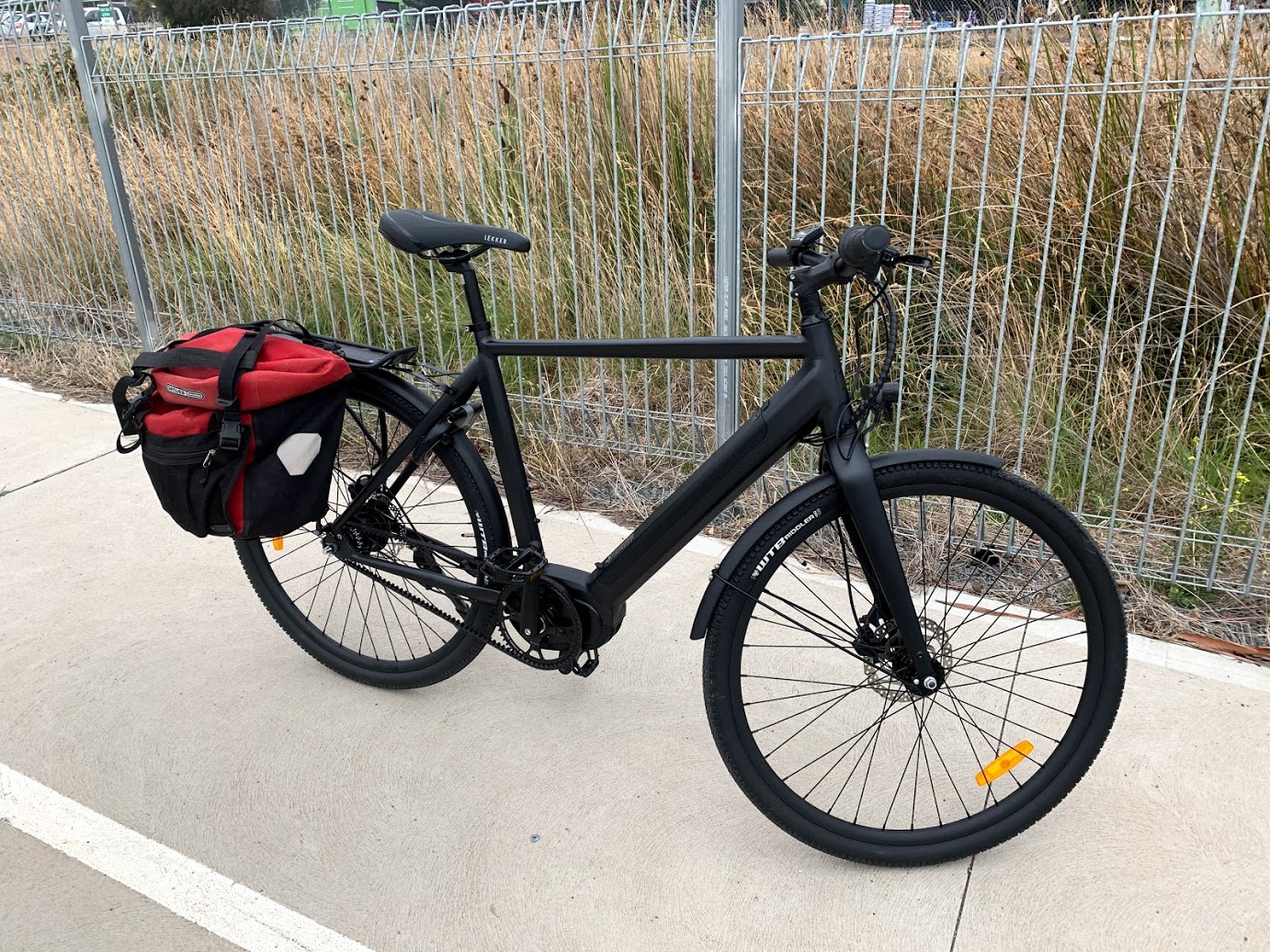 My brand new Lekker E-Amsterdam Bike (above) and my Lekker as customsied one year on (below)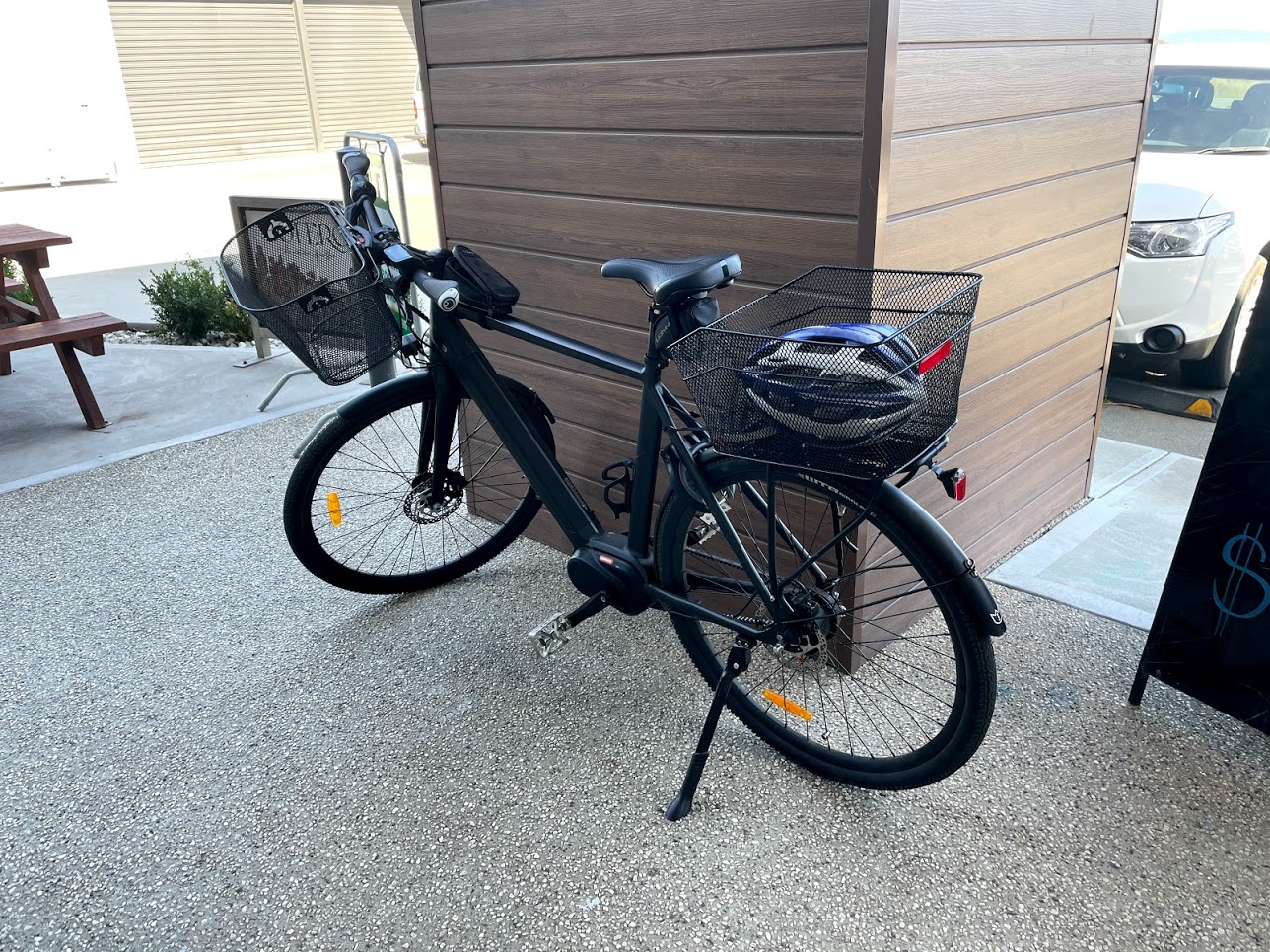 I hadn't ridden it for a few weeks, but I powered it up and it showed that it still had a full charge so I set off on the 20km ride into work.
A few hundred metres down the road, it lost the top bar of charge, but I still didn't think too much about that.
A few kilometers further down the road it lost the second bar of charge, but was still showing that it was two thirds charged. This was unusual, but I just rationalised it away as an anomaly.
I got to the first hill of the day (about 6kms into my ride) and as I got to a steeper bit towards the top, I put some pressure on the pedals and instead of getting the expected assistance, the electrics just seemed to overload and crash. All power disappeared and the screen went blank and I came to an ungracious stop. After about 30 seconds, I managed to get it to fire back up, but it now showed next to no charge in the battery and I was forced to ride my bike the remaining 14 kilometers into work without any power assist. That wasn't fun.
I did contact Lekker, and they suggested I take it into a local electric bike shop and have them have a look at it, but the reason I bought my bike from Lekker was in part because there wasn't a local electric bike shop, so that left me at a bit of a loss as what to do. (Update May 2021 - I subsequently contacted Teros Electric Bikes in Hobart to see if they could have a look at it for me and diagnose the problem, but they flat out said they will only service their own bikes)
Things only got worse over the next couple of months. There's a section of road on my commute - just past Rosny College where you turn left off Bastick Street onto Riawena Road - where the road has a short, but really steep, pitch, and on three separate occasions I've come around this corner, put some power on the pedals and the bike has just overloaded and shut down. It is somewhat ironic to me that on a route that I have ridden hundreds of times by bike, I have only ever walked it three times, and all three times were on my Lekker E-Amsterdam.
This hasn't been my only problem.
I mentioned in my initial review that one of my biggest concerns was the way the gears seem to 'stick' in the internal hub when trying to change gears going up hills due to the pressure being applied to the chain from the power assist. This problem didn't resolve itself through familiarity. In fact I actually think I have stripped or damaged the internal hub somehow. I remember when it happened, I changed gear from fifth to fourth when riding along a local bike trail and just heard this horrible sound from inside the hub and it locked up. I wasn't even putting pressure on it at the time. Since then the third and fourth gears have just never been right with even stickier gear changes and the gears themselves seeming to be more work than the gears around them. Not want you want from a $3000 bike that had only done around 400kms.
Then at around 700kms of the bike, the bike has started to make a constant grinding noise when I pedal, particularly when pedaling up hills. I am now nearly up to 1000kms, but I just can't seem to find out what the problem is with this, but it sounds like a rusty chain running around as I pedal - which kind of sucks given I have an internal hub and gates belt drive.
I also had a problem at 950kms when I started getting a rubbing sound on my tires. I mainly mention that because as I went through a process of trying to find out what was rubbing, I had to remove the back tire as I had noticed the bolt holding the rear rack to the bike was lose and I had to get to it from the underside. I have the Gates Belt Drive and internal hub (8 speed) and racks, and it took me three youtube videos and two calls to Lekker's mechanics to figure out how to get the back wheel off. God help anybody if they get a simple flat on the side of the road to fix it. You need a 15mm and 10mm wrench, plus a 4mm allan key just to remove the wheel, and while there are some good youtube videos around showing you how to remove a wheel with a gates belt drive, the two extra twists with the Lekker e-amsterdam are that you actually have to remove the at least the top bolt (allan key) from the disc brake block and push that down to allow the back wheel to slide backwards and if you have mudguards, you also need to completely deflate your tyre so you can slide it far enough backwards without having to take the mudguards off. What a palaver!
Just for completeness, looking at the other issues I raised at the time, here's my thoughts one year and 700kms on:
I think (at 185cm) I would have been better buying the 54cm frame. The 58cm frame bar is just to high, and I ended up (after a bit of trial and error and another $200) settling on changing out the stem for a 130cm adjustable stem ( a BBB BHS-29 HighSix 130mm OS Adjustable Stem for those who want the technical detail) which I now ride at maximum height (see image below). This both gives me a more upright riding position and it shortens the reach which I find more comfortable. I also changed out the hand grips for some Ergon GP1 Rohloff Grips which I find much more comfortable. I often found myself getting numb hands with the grips provided even on my short rides.
I got used to the seat.
Once adjusted, the front lights work pretty well both in an urban environment and on darker streets unless you are traveling fast down a dark road, but I feel nervous with the rear light as it seems a bit under-powered. I use a second rear light just to be safe.
Supplementing my main comments about battery failure, the Battery Life has been pretty disappointing for me, not so much in range, but in consistency. I bought the larger 14.5Ah battery with a reported range of 70kms. On some days I've ridden to work (20kms) and the battery still shows as fully charged, but on other occasions I have used most of the charge on just the 20km ride to or from work, with no noticeable difference in how I've ridden the bike. On one occasion, on a ride into town on a Saturday, the battery ran flat after just 25kms and I had to spend 2 hours at work waiting for it to get enough of a recharge to get me home. And no, it's not weather related as despite Tasmania's reputation for cold weather we basically have a marine climate and none of these days would have been below 15 degrees Celsius.
I never did get used to the Battery Charging Cap and it has continued to be a pain to get on and off. To be honest, I mostly leave it open nowadays unless it looks wet and rainy. I did have an issue about a month ago when I went to remove the charger from the port and the charging bit (that goes into the bike) just detached from the charger as I went to pull it out. To Lekker's credit on this one, when I contacted them they quickly replaced it under warranty.
The Tyres and Fenders (Mud Guards). Not a lot to say here, the tyres need reinflating on a bi-monthly basis (they lose a lot of pressure compared to my other bikes) and the Fenders continue to be a pain - they are too close to the tyres and often move around, but in the scheme of things, they're not a show stopper.
I never got the front Rack to work on my bike as I just couldn't get the angle right, so that was a waste of money. I did try and swap out the Rear Rack with a Topeak slide mount rack, but discovered that the bolt holes on the Lekker bike are a different size to all my other racks (they're bigger) and I would have had to drill out the rack eyelets to fit them so I didn't bother.
The Carbon Drive Chain worked really well for the first 700kms but I am now getting a grating sound from the drive train as I pedal which I have yet to pin down to a source. I wouldn't go internal hub again.
Finally with the AXA Defender + Plug-in Chain Combination, this has been a win - at least the AXA Defender wheel lock has been, especially for those quick trips down to the shop which has now become the bikes main purpose. I've never used the chain as it is too big and unwieldy to carry.
So where am I with my Lekker?
Like many people, COVID had a big impact on my work patterns and hence my need to really ride the Lekker over the last year, so my kilometers are a lot less than anticipated, but you just have to do some math to see my issue: my average daily return commute is about 40kms, and in total I've done about 700kms on the bike. At best, that's around 17 return rides on the bike (but in reality probably closer to 12 to 15 rides). Out of these, it has failed on me four times. That's a failure rate of about 1 in 4 rides where I've been left with a heavy, electric bike which I've had to ride without any power, which just isn't reliable enough. Just for clarity, I purchased two chargers, so I could have a charger at both home and work, so I always left with a fully charged bike.
Basically I've given up on it as a commuter bike, but trying to embrace the new COVID world, back in January I purchased some cheap front and back wire mesh baskets for the bike from Pushys (total cost $41) and I now use my bike to ride down to the local shops (about a 3km return trip) to get groceries, or just grab a coffee or some lunch. The ride to my local shops is completely flat and the AXA Defender lock is great for quickly locking the back wheel while I duck into the shops.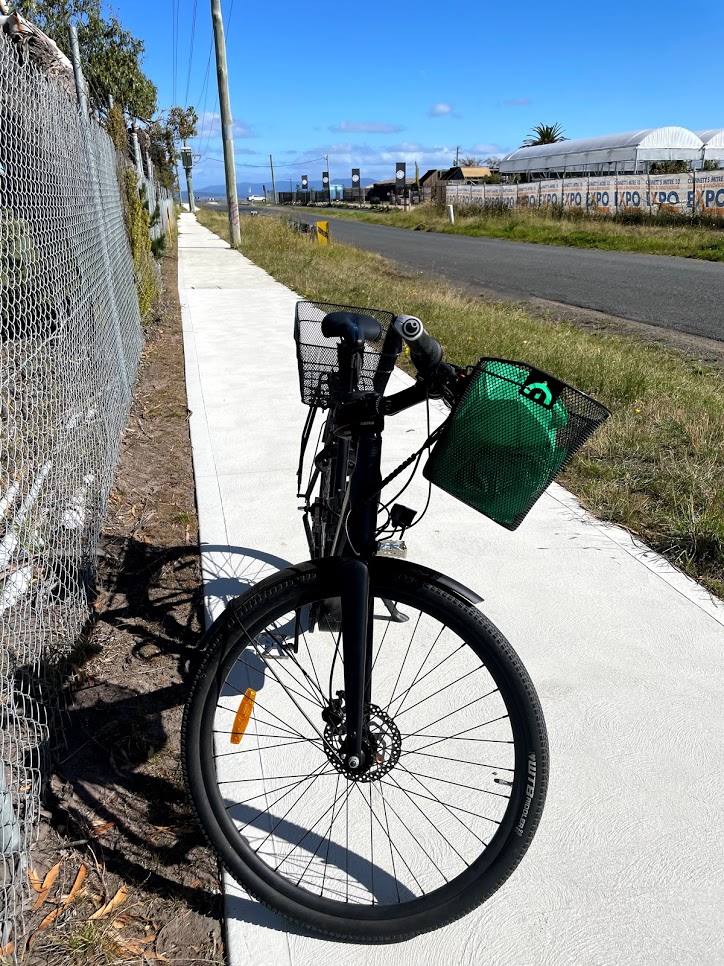 But would I recommend buying a Lekker for this purpose: no. I'm just trying to make the best of a bad situation.
Would I recommend buying a Lekker E-amsterdam bike for any purpose? I have to honestly say no after my experience with the bike. There's five of us in my work group who have bought electric bikes in the last year or so, every one of them different, and none of those other models have had anything like the problems I've had with my bike.
I just think I got a dud.
Stay Informed
When you subscribe to the blog, we will send you an e-mail when there are new updates on the site so you wouldn't miss them.
Comments
No comments made yet. Be the first to submit a comment