Tasmania's Bike Friendly Business Accreditation Program
The TICT have launched Australia's first Bike Friendly Business community in partnership with the Tasmanian Government, the Tasmanian cycling community, and Tourism Northern Tasmania.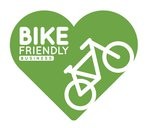 The aim of 'Bike Friendly Business Accreditation' is
To create an accreditation program for tourism facing businesses in Tasmania to leverage the cycle tourism market. Businesses will complete a declaration stating they are bike friendly which demonstrates a united and welcome approach to cycle tourists.
To create a community of like-minded businesses who all work together to share knowledge and promote/refer each other to cycle tourists.
To create a brand that resonates with cyclists and immediately generates a feeling of confidence and reassurance that a businesses carrying this identifiable logo will treat cycle tourist with warmth and provide a level of assistance to their varying needs.
On the upside, the scheme is free of charge for Tourism Accredited Businesses, but on the downside it is only open to Tourism Accredited Businesses.
The scheme itself has seemed to abandoned the well accepted approaches in Europe and elsewhere having different bandings or minimum standards for accreditiation and has instead gone for a simple "tick five boxes and you're in".  This approach is not in itself flawed, but given the checklinst (below) it does seem that a business could tick five boxes in just one or two categories and be accredited as "Bike Friendly" without necessarily meeting a minimum standard required by cyclists.
Knowledge and welcome – demonstrate your understanding of the needs of cyclists
Front of house staff are aware of the needs of cyclists and can confidently assist cycle tourists with information or help
Front of house staff are aware of the local cycling trails
We stock books and brochures outlining trails
Staff/owners are keen cyclists
We have undertaken or have a willingness to undertake training/attend cycle friendly workshops

Water Refills
Water bottles can be filled up in guest rooms
Staff will fill water bottles upon request
Water jug is supplied for self-service
Tap that is accessible and permitted for cyclists to self-service

Storage
We supply bike racks out of the front of the building
We supply bike hooks to hang bikes safely
We supply floor mats for customers to store their bikes in their rooms
We offer a locked room for bike storage
We have a secure garage available for bike storage

Repair and maintenance
We have a bicycle repair kit (*minimum items are required, see below)
We have extra tools available such as cable cutters, spare cables etc.
We have a complimentary, dedicated self-service area
We have a member of staff that can provide limited mechanical assistance
We employ a paid bike mechanic
We offer a tap and hose outside that can be used for bike washing
We offer a dedicated cleaning area for bikes
Stay Informed
When you subscribe to the blog, we will send you an e-mail when there are new updates on the site so you wouldn't miss them.
Comments
No comments made yet. Be the first to submit a comment